All the news that's foot to print
02/08/10 15:30, by
catfish
, Categories:
NAMM 2010
,
BFMN Exclusive
,
Frank Butler
, Tags:
barefootmusicnews
,
blues guitar
,
catfish
,
dan grigor
,
namm 2010
,
t-man
,
tallan latz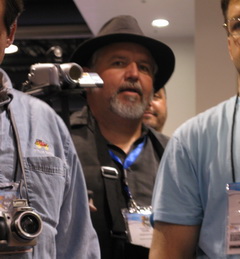 As I wandered aimlessly through the Winter NAMM 2010 main floor, I was reaching maximum overload with all the noise and the sheer number of people who were there on Saturday, the busiest day. There was so much to see and hear and touch that I only saw about 10% of what was there. That took 4 eight-hour days.
I didn't see Roland Amps; they had their own building at the convention. I never made it to Yamaha; they were in a separate building, too.   I thought I saw Gibson. but it was a mirage…. We will talk about that another time…
Out of the corner of my eye I caught something just one second before passing by, oblivious.
It was the "T-Man," Tallan Noble Latz, surrounded by fans only 8 or 10 feet away from me.  This kid is what I wish now that I was at ten years old: a fantastic blues guitarist with the world begging for more. When I was ten, I was lighting G.I.Joe characters and model airplanes on fire…but that's another story.
Now I had just told Dan Grigor, who was shooting video with me, that I was done and wanted to call it a day, journalism wise, and go play some cool guitars that had been beckoning me like Ahab in "Moby Dick."
I had interviewed Tallan and his father, Carl, less than a year ago on a SMG podcast, and was really surprised that I had just walked up on him like that.  I learned back then what Les Paul, Buddy Guy, Joe Bonamassa, Walter Trout and a whole long list of other blues legends already knew: this young boy is a guitar prodigy and he doesn't know it. I know he has heard that, but I don't think he has hit that self-realization yet. So I tugged on Dan's shirttail and said"one more." He frowned at me until he saw why I stopped in my tracks and recanted what had last come out of my mouth.
I cut through the fans and onlookers and made a beeline for dad.  I asked Carl if I could have some time with Tallan on video and he said that I absolutely could and helped make some arrangements for us to get Tallan a few feet from the crowd and visit. Since Carl and I have talked a few times, he knew I was a safe contact for Tallan. Carl basically went about his business of fielding questions about Tallan to others in near proximity.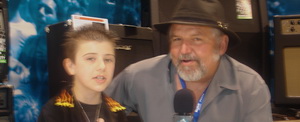 His mom, on the other hand, did not know who I was and got between us like I do between my dog Clyde and the mailman. Once I introduced myself to her, and explained what we were doing, it was like stepping through a metal detector and not hearing the beep. I was free to go.
We set up two cameras and I sat down with Tallan on some amps.  Now, what to talk about?  It's not like there was a script of pertinent questions. My mental library about Tallan whizzed by in my head like a film on fast forward.  It stopped at Tallan on a video I saw of him interviewing himself when he was around seven. Since he is probably one of the most frequently interviewed 10-year-old blues guitarists out there, and he has even interviewed himself, what's left that won't bore him?
I asked Tallan if he wanted to interview me instead, and he was all over it. The rest is in the clip. 5 or 6 minutes of fun with one very cool, down-to-earth kid that does stuff on the guitar I have yet to learn. We did this long, hip handshake my own kid showed me after the cameras were turned off. It went flawlessly and you all missed it.  In the final move Tallan reared back like he was throwing a 99-yard pass and, as our fists met, he yelled "KaPow!" much to the amusement of onlookers. It was something that just struck me as rare and obvious. This blues shredder is, first, a boy.
In closing, I have a recommendation for all of you; watch the video; listen to the podcast; see him play live if you get the opportunity; go visit him on MySpace; subscribe to him on YouTube. You will be glad you did. "Tallan" will be a household word like "Clapton" soon. You and I both know it.
This entry was posted by
catfish
and is filed under
NAMM 2010
,
BFMN Exclusive
,
Frank Butler
. Tags:
barefootmusicnews
,
blues guitar
,
catfish
,
dan grigor
,
namm 2010
,
t-man
,
tallan latz
No feedback yet

All the news that's foot to print
BareFootMusicNews Fresh Stuff
Search