All the news that's foot to print
07/21/10 21:50, by
catfish
, Categories:
NAMM 2010
,
BFMN Exclusive
,
Frank Butler
, Tags:
dave tan
,
dean deleo
,
demeter amplification
,
frank butler
,
james demeter
,
namm
,
tube direct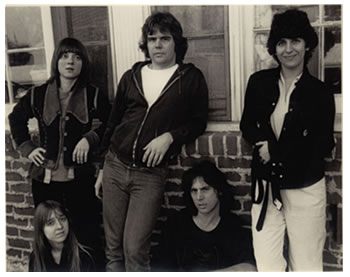 We ran into James Demeter at the NAMM Show. Interesting guy. He was the guitarist for "The Heaters" back in the 70's. (That's him in the center, in the photo at left.) Although he knows his way around a guitar and even built them for a while, he is known more for his amps than anything else. His booth was kind of a green room for his friends, if you will. I heard he didn't give many interviews as his special line of amps, pre-amps, compressors and other effects gadgets don't need any salesman standing in the flow of foot traffic handing out flyers to the masses. The biggest artists in my (and your) world use his gear, and they line up to do so. His cutting-edge technology sells itself to those who want and need perfection in delivering sound waves to fans everywhere. At this show, a very limited-edition recreation of the pre-amp whose unique sound was made famous by Dean Deleo of Stone Temple Pilots made its appearance for the lucky 15 who will get to own one.
Click through for the video of the interview with James
As it turns out, Dave Tan, a great guitarist and a friend with whom I had suffered a hangover just that morning after way too much fun at the after-party gigs the night before, was visiting with James and got me a quick interview with him.
I can't stress enough how well he is known in the world of high-end components, as everyone from AC/DC to Sting to Lenny Kravitz to Eddie Van Halen – and every other superstar of rock I can think of – uses his gear to give us what they have to blow our minds with.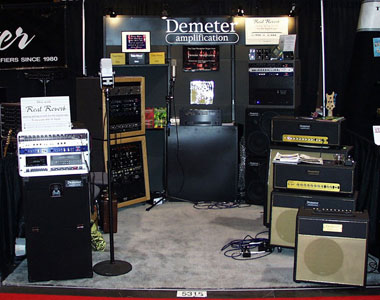 James started out in 1980 putting out the Red Box FET Direct Box. Only 15 were built. Remember that number. In 1981 James called his company Innovative Audio Systems.
As the years have passed, Demeter Amplification (the name assumed in 1990) has put out lots of units of various cool and powerful toys like the Tube Direct box, and some limited-edition stuff with very low production numbers because they are pretty much custom models that only a few get to have. Since the quantities of so many of the production models are so low – 20, 50, yeah that low– there is a sort of a cult following of collectors who want to horde his stuff so that I can't have one of each.
James talked with us about one of his latest, the re-issue of the TGP-3, the cult classic guitar pre-amp made famous (O.K., more famous) by Dean Deleo. He only put out 15 of these bad boys this time.
Oh yeah, the Rolling Stones, some guys from England (I think), use his stuff too.
Check out his full line at demeteramps.com.
This entry was posted by
catfish
and is filed under
NAMM 2010
,
BFMN Exclusive
,
Frank Butler
. Tags:
dave tan
,
dean deleo
,
demeter amplification
,
frank butler
,
james demeter
,
namm
,
tube direct
No feedback yet

All the news that's foot to print
BareFootMusicNews Fresh Stuff
Search