All the news that's foot to print
02/03/12 15:24, by
wakitu
, Categories:
BFMN Exclusive
,
Dan Grigor
,
Review
,
NAMM 2012
,
NAMM 2012 Music
, Tags:
12-string guitar
,
acoustic
,
bedel
,
bedell
,
bedell guitars
,
canadian flamed maple
,
dan grigor
,
inspiration
,
namm show
,
review
,
tom bedell
,
two old hippies
,
wine
by Dan Grigor
OK, I'll admit it, he had me from the first picture on the first page I saw of his website: a barefoot old hippie and his guitars. The second shot is one of him at 14, barefoot with his guitar. I liked that. Then I played one of his guitars and we instantly became friends.
Tom Bedell is one of those guys who found his passion young, grabbed hold, and out of it made a lifestyle and a livelihood that has served him and his family since 1964. He was 14 years old when he sold his first one and his guitars have matured along with his skill. One chasing the other even now, silver-haired and much wiser. He has been inducted into the Iowa Rock 'n' Roll Hall of Fame. Twice. This year, he was elected to the Board of Directors of NAMM. His passion for music is apparent and now, more than ever, he has the ability to share it with the world.
He is a craftsman and an artisan who has filled his shop with craftsmen and artisans and the smell of good wood.  Honing the craft was half the passion – the elusive search for the perfect guitar – the other half is a passion for music and sharing his gift so others can share theirs.
Click through to hear the blonde beauty sing
We got to know each other a little at NAMM, talking about his guitars and how they are made. I played a bunch of them during the interviews and Tom was kind enough to invite me back later in the day to play a few songs. I grabbed the beautiful blonde for a dance and had a ball playing for our corner of the huge convention hall.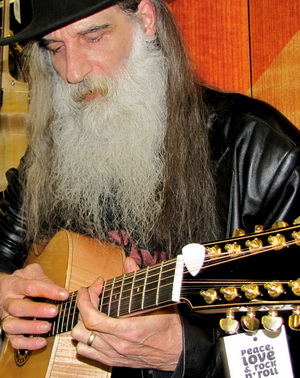 The guitar was incredible, a blonde under ebony beauty. They are handcrafted, one by one, using pieces of Canadian Flamed Maple specifically selected for the back and sides.  Maple is known as a "tone wood." That means that the grain pattern and density of the wood lends itself well to sound waves. It "carries" the tone. Brighter not only in color but in sound, Maple is sort of the opposite of Mahogany. Blonde rather than brown, harder and heavier and rather crisp – brighter, if you will – than the mellower, softer-sounding, Mahogany.
The jumbo body provides thunderous volume and a not-too-fat bottom end. The close-grained Alaskan Sitka Spruce top lets it sing and sustains the volume. The solid Canadian Maple neck gives it something to grab onto that resonates back up through the heel, through the body, and all the way back down to your hand. I find Maple to be a really playable neck; like an old Strat it just gets better with age.  The African ebony fingerboard and bridge give a striking contrast to the look but, more importantly, they add the density and sound of hardwood that makes it finger fast and hard. This helps each note articulate on its own, providing definition between the double-course strings. The balance of these materials, coupled with unique joinery and sculpted braces inside, creates an amazing tone box free of the annoying overtones of lesser quality 12-strings.
Stay tuned for the interviews with Tom Bedell and his crew. For now, here is a little bit of that beautiful  blonde. I just like the lines of this guitar, so pretty. Listen to Crazy and see how the midtones don't conflict with my deep, and admittedly hoarse, end-of-NAMM-Show, voice. I played this guitar during the interviews. When I came back to play the show, I'd swear it was still ringing. I loved it.
Looking for a new 12-string with big sound, old-world craftsman-quality workmanship using some of the best materials known to the music world?  Check out a blonde from Bedell  Guitars. You will not be disappointed.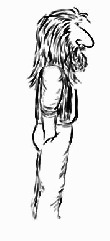 Publisher's Note:
This is just the first post in a series about Bedell Guitars. We talk with Tom and his crew and get all the details on these beautiful guitars. Stay tuned; I'll update this post when the next installment is up.
Click here for a little "sound check" teaser
Click here for Part Two, in which Dan reviews the Rock'n Roll Orchestra Guitar -
it includes Part 1 of an interview with guitar creator Tom Bedell .
This entry was posted by
wakitu
and is filed under
BFMN Exclusive
,
Dan Grigor
,
Review
,
NAMM 2012
,
NAMM 2012 Music
. Tags:
12-string guitar
,
acoustic
,
bedel
,
bedell
,
bedell guitars
,
canadian flamed maple
,
dan grigor
,
inspiration
,
namm show
,
review
,
tom bedell
,
two old hippies
,
wine
No feedback yet

All the news that's foot to print
BareFootMusicNews Fresh Stuff
Search