09/27/10 05:10, by
paul.bourgeois
, Categories:
BFMN Exclusive
,
Monday Morning Musical Musings
,
Paul Bourgeois
, Tags:
death
,
finland
,
folk
,
goth
,
goth metal
,
metal
,
music
,
sibelius
,
snoop dogg
,
v_rtiin_

When I was in the Czech Republic I came across a wonderful tape called "Death Songs of the Near East" by a small artistic ensemble, a collection of folk tales about death from Eastern Europe. It was beautiful. I have since moved to Finland and lost the tape and can find no reference to it. But things pass away and change. With that in mind, I reflect upon the darkness of traditional Finnish folk music.  This article is about folk music. The darkness, I suppose, is mine. But, of course, whenever we hear the darkness, it is always ourselves we are listening to.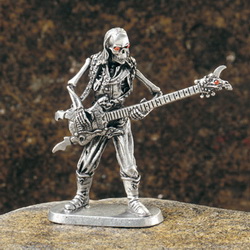 On the subject of darkness, here in Finland we get, at the most, four hours of light in the height of winter. That's in the south. In the north we get no light at all in winter, trapped in perpetual cold and darkness for half the year. That may explain the propensity for death and darkness in traditional Finnish folk music. It may also explain the popularity of Goth Metal in Finland, one of our greatest exports.
I spent some time singing traditional folk music with the old people. Couldn't understand a word of it while I sang it, and I still have trouble with the language, but I did do some translation work. The melodic forms of Finnish folk are as unique and marvelous as the language itself. The song "Metsä Kuukia" is about the fragile forest flower, how it dies in the winter. The death of a beautiful forest flower is a metaphor for life, of course. The unstoppable ice and snow covering the earth, bringing inevitable death, delicate beauty passing away and making room for the new. Visions of the same flowers being used as marriage wreaths and, I suppose, funeral wreaths.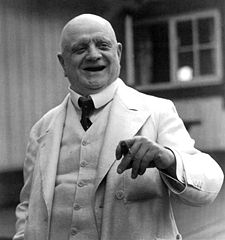 Don't misunderstand me. I don't think there are many who can touch Tapio Rautavaara in terms of voice or ominous bigness. It is so overwhelmingly beautiful, and the whole cultural tradition is just made so that that dark power can be brought into the expression. But it is when musicians take the traditional folk a step farther, like Sibelius. Sibelius is perhaps one of the greatest composers of all time. "Finlandia" is one of the biggest tunes I have ever heard with a strength that is dark and powerful, and it makes me reflect even more deeply into the foundations of Finnish Goth Metal.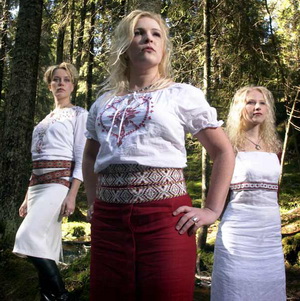 Or a group called Värtiinä. Värtiinä is a traditional folk group of three women which do these marvelous a capella harmonies and have an acoustic band backing them. They reach far back into Nordic and Finnish tradition, calling on the Kalevala, a collection of Finnish myths. The group became really popular when they dyed their hair blond and started wearing Madonna style microphones. I am just blown away by the story of a poor old man who gets bitten by a snake, starts acting strangely, and the old women of the village have to exorcise the snake from him. To tell you the truth, if a bunch of old women tried to exorcise my snake, I would definitely try to toe the line from then on.
A lot of it ends up sounding very Keltic, with the fiddle and dance music. When you listen to the Nordic and Finnish influences, the musical tradition becomes clear. The Vikings who were discovering North America and pillaging and having other relations with peoples along the northern coast of Britain are not the same people as the Finns in the Kalevala who were brewing beer and having wedding parties but not inviting the local evil wizard (a definite faux pas). However, the cultural drift and influence of the Swedish on Finland is strong enough to make musical and cultural connections.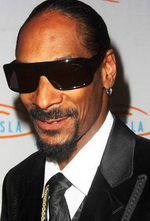 "Käppee," roughly translated as flimsy and worthless, is about women getting stuck with useless, boozing, bad-tempered men. "The fellow is weak," they sing, "weak and worthless and a wild boozer, suddenly strange and bad tempered." Yet another gem of manhood. So you can see where Vartiina is coming from.
Sibelius, a Finn and one of the greatest composers of all time, went to America searching the American tradition for musical inspiration. Which would seem to be perfectly justifiable. Otherwise Sibelius would end up getting very depressed and inventing Goth Metal a few years before its time. They say jazz and blues is the only true American folk, which is an admirable statement, but I don't know if it is entirely true. Next week maybe I think I would like to look at the connection between Snoop Dogg and bluegrass. And some time in the near future I should look at Finnish metal bands.
This entry was posted by
paul.bourgeois
and is filed under
BFMN Exclusive
,
Monday Morning Musical Musings
,
Paul Bourgeois
. Tags:
death
,
finland
,
folk
,
goth
,
goth metal
,
metal
,
music
,
sibelius
,
snoop dogg
,
v_rtiin_
No feedback yet
translate