All the news that's foot to print
03/19/11 03:53, by
dang
, Categories:
BFMN Exclusive
,
Dan Grigor
,
NAMM 2011
,
NAMM 2011 Music
, Tags:
artistworks
,
christie peery
,
dan grigor
,
dj qbert
,
howard levy
,
interview
,
martin taylor
,
online music lessons
,
tony trischka

While at NAMM we stopped by the ArtistWorks booth to check out a groundbreaking method of  musical instruction for the digital generation of students. It has been tried before with video chat, youtube and other video sharing sites. Nowhere on the net was there a place, until now, that allowed a teacher and a student to have one-on-one, face-to-face lessons. Thanks to the VES or Video Exchange System, a patent-pending technology developed by ArtistWorks, we can now do just that.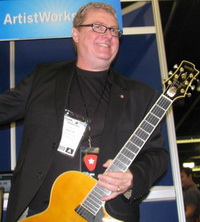 The concept is simple. Each teacher records an extensive curriculum in the ArtistWorks Video Studio. Each course is recorded with state-of-the-art tools, multiple camera angles and hi-res cameras for slow-motion playback and, of course, studio-quality sound. The videos are posted and can be watched by a student as often as they wish, whenever they have time. When they are ready they record themselves and their questions through a simple webcam interface and upload it to the site. The teacher then records a response video with specific one-on-one instruction for that student. No canned responses here. This video gets paired with the lesson video and becomes available to other students and all students benefit from the instruction. Since they are paired, all the videos about every lesson are right there easy to get at. Easy to learn from, easy to watch. Therein lies the real value. Not only do you get YOUR silly question answered but you get to see the answers to all those that came before you. For the same subscription fee you get individual instruction from a master musician and access to all the instruction given to all the students who came before you. Priceless.
Add to this the fact that the teachers working with ArtistWorks during this launch phase of the company are world-class musicians that have toured, recorded and played with an astounding list of bands and artists worldwide.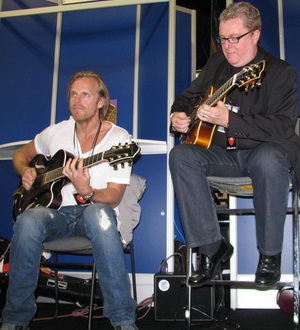 I taught guitar for a really long time. I supported my family giving guitar lessons for a while. The problem with local one-on-one teaching is that there is only so many hours in the day available for teaching and only a few of those are hours that students can logically attend. If you have adult students, they have jobs; if you have children they are in school and have extra-curricular after-school activities as well. Seniors can come during the day but frankly there aren't enough to go around. So you end up with 3 to 10 o'clock on week days  or roughly six one-hour students per day with a little time in between each to schmooze, or go to the can or get a cup of coffee. Weekends are similar but you get a few more hours. That is limiting from a financial aspect and no matter how good a teacher is, he, she or it needs to make a living and most don't last as long as you would think. Teaching in groups can be fun and you can make some money but it lacks the face-to-face instruction that is so important. Students don't do as well even though they get the added benefit of the others asking questions or helping with the hard parts.
This innovative system allows teachers and students to take advantage of the wonderful world of technology with no limits to how many lessons a teacher can give or a voracious student can take.
In the playlist above, we have Andreas Oberg and Martin Taylor jamming in an impromptu session at the NAMM booth. Two Dan Grigor interviews follow: Chris from ArtistWorks tells us how it works and how to get involved, and we talk with Andreas Oberg, one of the teachers.
This entry was posted by
dang
and is filed under
BFMN Exclusive
,
Dan Grigor
,
NAMM 2011
,
NAMM 2011 Music
. Tags:
artistworks
,
christie peery
,
dan grigor
,
dj qbert
,
howard levy
,
interview
,
martin taylor
,
online music lessons
,
tony trischka
No feedback yet

All the news that's foot to print
BareFootMusicNews Fresh Stuff
Search