Richmond, VA, police confirmed that, GWAR founder and vocalist Dave Brockie was found dead in his Richmond home early Sunday evening.
"At approximately 6:53 p.m. on Sunday, Richmond Police were called to a residence in the 4800 block of West Seminary Avenue for a report of a deceased individual,"  a police spokeswoman wrote. "When officers arrived, they found David M. Brockie, 50, deceased inside the home."
Band manager Jack Flanagan issued the following statement:
"It is with a saddened heart, that I confirm my dear friend Dave Brockie, artist, musician, and lead singer of GWAR passed away at approximately 6:50 PM EST Sunday March 23,2014. His body was found Sunday by his band mate at his home in Richmond, VA. Richmond authorities have confirmed his death and next of kin has been notified. A full autopsy will be performed. He was 50 years old, born August 30, 1963.
Click through for more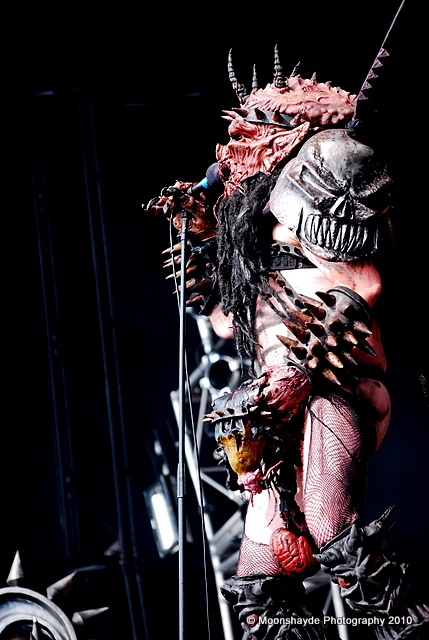 "My main focus right now is to look after my band mates and his family. More information regarding his death shall be released as the details are confirmed."
Brockie formed Gwar in 1984 (originally called Gwaaarrrgghhlllgh), taking on the role of Oderus Urungus. They were well-known for their outrageous, elaborate costumes and irreverent, audience-splattering stage show. As BFMN photojournalist Moonshayde Saunders of Moonshayde Photography explained, "After the photographers were warned that they would be shooting GWAR at their own risk and that they should protect themselves and their gear from all manner of fluids including nuclear waste - all the photographers and security were provided with waterproof ponchos, sound and stage equipment was hastily covered with plastic, and we were given the monstrous show that is GWAR. Decapitated policemen, un-'PC' pope with swastikas on him, male 'members' spurting green fluids (to put it politely!), limbs being hacked off and blood spurting everywhere, drenching the crowd, Gwar is definitely a spectacle with some solid punk/thrash metal to keep it all going. Not for the squeamish!!"
Gwar celebrated their 30th anniversary in 2014, having released its latest album, Battle Maximus
, last September. They recently toured Australia and Japan.
Gwar bassist Mike Bishop called Brockie "one of the funniest, smartest, most creative and energetic persons I've known. He was brash sometimes, always crass, irreverent, he was hilarious in every way. But he was also deeply intelligent and interested in life, history, politics and art."
"I wish it was a joke," added former band member Chris Bopst. "Everyone is in shock."
Gwar was a mainstay in the punk/metal scene for decades and Brockie, in particular, maintained a very strong public presence, making himself available for appearances and interviews and speaking out on issues about which he felt strongly.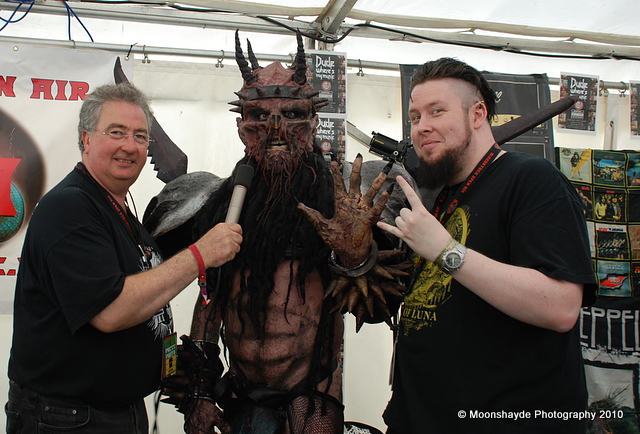 Oderus Urungus being interviewed for radio backstage at Bloodstock Open Air.
This entry was posted by
wakitu
and is filed under
Music News
. Tags:
autopsy
,
battle maximus
,
dave brockie
,
dead
,
gwar
,
oderus urungus
No feedback yet
translate