05/19/10 23:16, by
wakitu
, Categories:
Music News
,
BFMN Exclusive
,
Moonshayde Photography
,
Bands
,
Review
, Tags:
eric singer
,
gene simmons
,
paul stanley
,
photos kiss
,
taking dawn
,
tommy thayer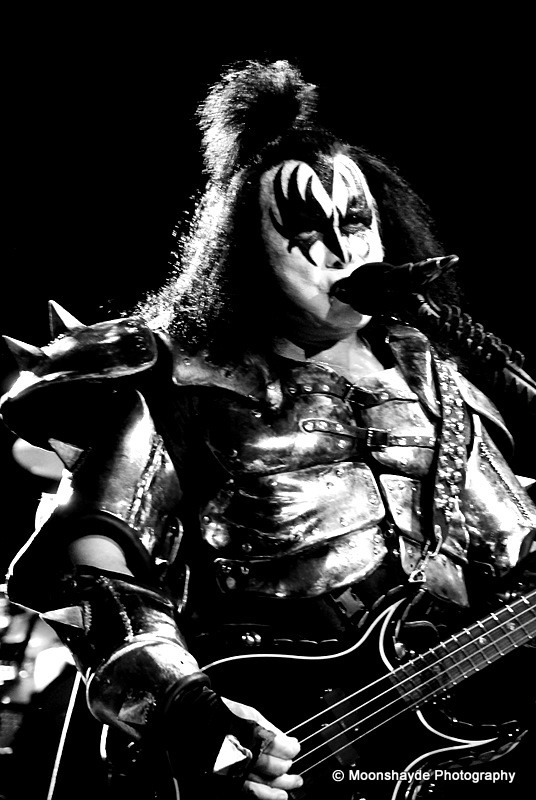 By Mark Taylor
Last March, KISS burned out everyone's retinas at the tiny Islington Academy in a one-off show to promote the "Sonic Boom" tour.
On May 13, KISS were back where they belong, on stage in the big Wembley Arena, bringing with them 17 trucks of equipment, 5 tour buses, a road crew of 50 and sacks full of confetti.
Click through for the rest of Mark's review of the Sonic Boom that hit Wembley Arena and Exclusive Photos of KISS by Moonshayde Photography.
Fresh from supporting Airbourne and now faced with the daunting task of fronting KISS, was young Las Vegas rock band Taking Dawn. Coming on stage to an intro tape of Survivor's "Eye Of The Tiger" from the Rocky III soundtrack, Taking Dawn soon got in the ring and made the most of the stage. The melodic "Save Me" with its Bon Jovish woahs and the Y&T feel of "Endlessly" were knock-out tunes.
Frontman Chris Babbitt proudly displayed his KISS Army shirt before storming into the Skid Row brattish attack of their title track "Time To Burn." There are more early-day Bon Jovi similarities in the "Runaway" chorus of "Take Me Away," but at the final bell they win on points with a suckerpunch cover of Fleetwood Mac's "The Chain." I would like to see them again; they would be more suited to a club gig this early in their career. (See our BareFoot FotoBlog for exclusive photos of Taking Dawn from Wembley Arena.)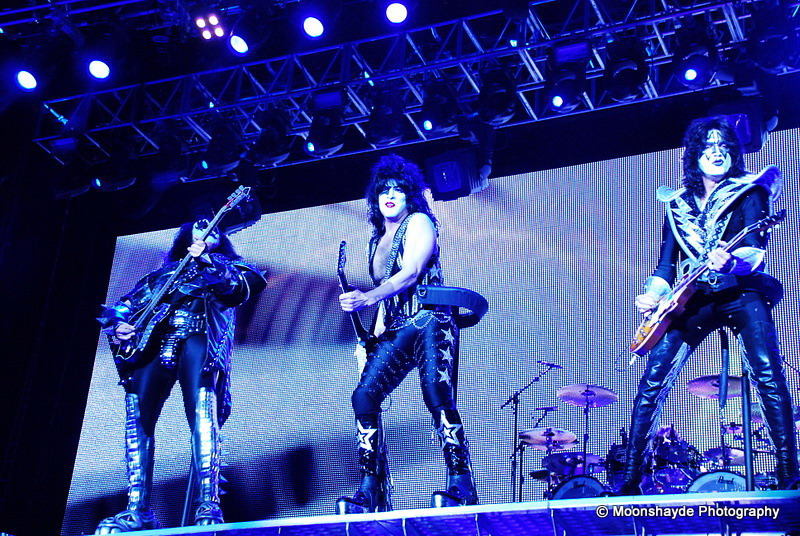 KISS is a band who could buy Las Vegas and show us what entertainment is really all about. Arriving in their platform boots on a platform from rock 'n roll heaven high above our heads, KISS descended onto the stage in an explosion of pyros from hell, storming into the opening track from "Sonic Boom," the fist-punching "Modern Day Delilah," and the crowd went crazy.
This is the Simmons/Stanley show where we are captivated by their every move. Gene Simmons swayed his armadillo metal crotch to the unsuspecting females down the front; Paul Stanley strutted his backside to the audience in his starry black spandex trousers. Simmons, at times, looked like the Predator after a bloodthirsty bout with Arnold Schwarzenegger, whilst Stanley is still camper than a row of tents who, when trying to split the audience in half, reminded me of the French mime artist Marcel Marceau.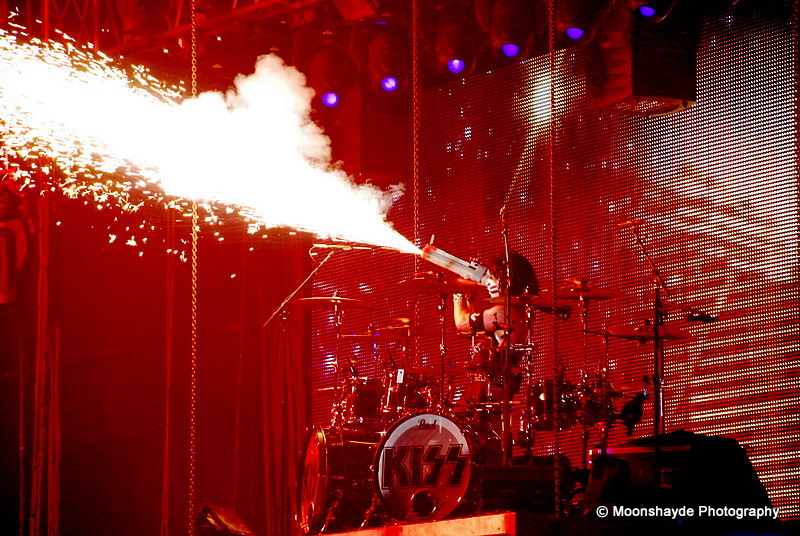 What about Space Ace and the Cat? This is the strongest live KISS line-up I've ever seen. New boy Tommy Thayer – who has, amazingly, now been in the band for eight years – handled all the Frehley riffs with aplomb, delivering great vocals on "Shock Me." Eric Singer looked cool behind the drum kit on the very literal drum riser, surprising me with his voice on "Black Diamond." At one point, Singer held up a bazooka and blasted out the lighting rig. Pantomime at its best.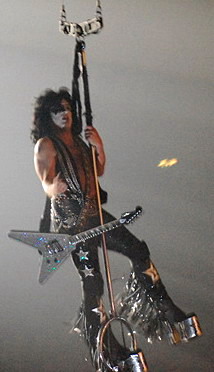 Simmons flew to the top of the lighting rig for "I Love It Loud," looking like the devil holding Sunday service. "Detroit Rock City," ending the main set, had us all begging for more.
With a five-song encore, KISS showed off their influences as "Lick It Up" segued into the Who's "Won't Get Fooled Again," with Stanley swinging the microphone lead around his neck. Paul Stanley then flew above the crowd into the center of the arena for the sing-a-long of the disco floor-filler "I Was Made For Loving You."
At the end of the KISS anthem "Rock And Roll All Nite," an avalanche of confetti snowblinds Wembley to an estatic reaction. I still kept finding tons of the stuff in my pockets hours after the show, there was so much of it.
We wanted the best, we got the best. The best is still yet to come from KISS, but it can't get much better than this. Our comic-book heroes were simply Marvelous.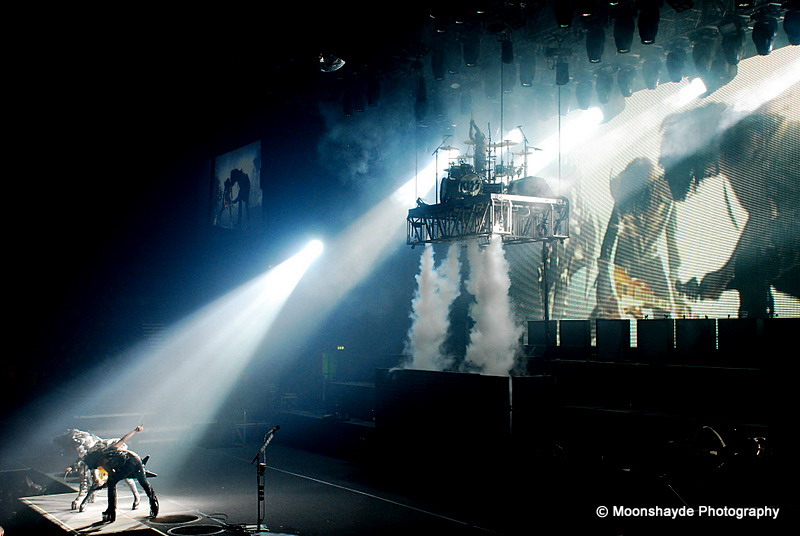 Go immediately to the BareFoot FotoBlog for more Exclusive KISS photos by Moonshayde Photography from London. NOW! You do NOT want to miss these!
Set list :  Modern Day Delilah / Cold Gin / Let Me Go Rock 'N Roll / Firehouse / Say Yeah! / Deuce / Crazy Crazy Nights / Calling Dr Love / Shock Me / I'm An Animal / 100,000 Years / I Love It Loud / Love Gun / Black Diamond /Detroit Rock City ..encores.. Lick It Up / Shout It Out Loud / I Was Made For Loving You / God Gave Rock 'N Roll To You II / Rock and Roll All Nite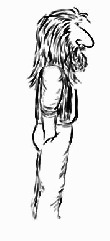 UPDATE: KISS has announced details of their North American "Hottest Show On Earth" tour taking fire in Cheyenne, Wyoming on July 23. See our our story for tour dates and to read about the competition being held in collaboration with Guitar Center to give 22 unsigned bands the chance to open for them at each of their 22 tour stops … the winning band will also take home $10,000!
This entry was posted by
wakitu
and is filed under
Music News
,
BFMN Exclusive
,
Moonshayde Photography
,
Bands
,
Review
. Tags:
eric singer
,
gene simmons
,
paul stanley
,
photos kiss
,
taking dawn
,
tommy thayer
No feedback yet
translate