All the news that's foot to print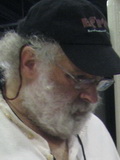 It's 4:58 in the morning, the date is January 16th, it's my birthday, the start of my seventh decade on this planet and I'm parked three stalls down from the dumpster at the back of the Super 8 motel, 400 yards from the entrance to the Anaheim Convention Center. You might ask, why am I here and why do you care? I've ventured to this location to cover the 11th annual National Association of Music Merchandisers Convention for BFMN. This is the once-a-year, west-coast Mecca for the merchandising of all things musical. It repeats on a slightly smaller scale in Nashville each summer.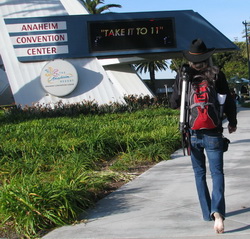 This is the venue where the manufacturers, crusty old established standards and enterprising, hopeful start-ups, have come to peddle their wares. This is where the musicians who endorse their products are contractually required to appear to publicly swear their allegiance to the companies which pay their bills or push their signature lines. Also, this is where the retailers have come to purchase the products with which they will populate their shelves and to press the flesh at their annual get-together.
I am either tragically late or horribly early. My publisher, Mr. Dan Grigor, has been here since Day One with a contingent of BFMN staff and they hardly require my assistance. I'm here to jump-start my brain to all the new musical innovations and to impart to you my heavily slanted view of this year's show.
I had planned to catch a few ZZZZs on the couch in Dan's suite, but I cannot bring myself to disturb his rest at 5:15 with a rapping and tapping, however gentle, on his motel room door. Midnight or even 1 AM would have been acceptable or 8:30 for a quick bite and story conference before the show. But at this time, when vampires are seeking their native earth, I just can't bring myself to beat on his door. Therefore, I am in stall number three.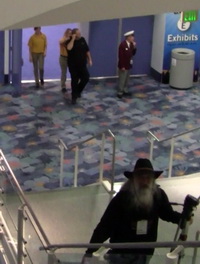 The hours grind by and at 8:30, after paying a twelve-dollar parking fee for the privilege of walking three blocks to the convention center, I get into the queue and receive my prearranged press credentials. These are totally necessary because if you thought security was tough at airports, well baby, you ain't seen nothing yet. At each entrance to any of the convention's exhibition halls a cadre of inspectors hovers over you demanding that a picture ID which matches your badge moniker be produced and then a hand scanner is quickly whipped across your badge to electronically record your admission. Why so tough? Well because the NAMM show is not open to you, the general public. That's right, common musicians such as yourself are refused entry to this music merchandise Mecca. If you can't buy wholesale then you can't come to the show.
Trust me, as I entered one of the exhibition halls this was was any convention at Anywhere USA. This could have been in NYC for the Plumbing show at Javitzs, or in Chicagoland for the CES at McCormick, or in Vegas for the NAB. This is just Orange County's tourist center for the NAMM next to the Magic Kingdom. Same old booths, same old bunting and the same guys in suits saying, "Buy my stuff," with Mickey just down the block.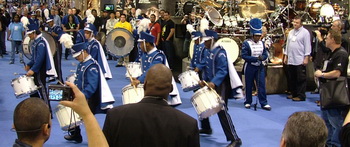 Of course, this is a lot louder. Amplified music spills from at least every third booth. It is an interesting aural experience being a pedestrian at this show. As you walk along there is an organic, acoustic segue from one musical presentation to the next. Behind me I hear percussion and it seems to be getting closer, this feels weird and as I turn I see that an entire marching band, replete with a choreographed front line, is approaching down the aisle. I step to the side so that this juggernaut will not crush me and I snap a few pics.
Everywhere I look there is musical stuff. All of the big-band items are here, gleaming brass instruments, beautiful stringed violins, cellos and double basses made of the finest woods. I flash back to my high-school years marching and playing, "On Wisconsin," on the tuba.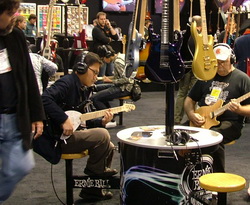 There must be two hundred different guitar manufacturers here and I'm trying to figure out what differences there could possibly be to justify so many competing companies. The last year that I saw figures for was 2008: acoustic guitar sales were down 8.2%, electric guitars sales were down 5.9% and amplifier sales were down 9.9%. I would guess that the big three, Gibson, Fender and Yamaha, probably control 90% of the market with the other 197 battling for that last 10%. Of course, in 2009 there were $1.151 billion in guitar sales, so even 10% of that market is $115,000,000 which makes the competition worthwhile. In case you were wondering, the average guitar sales price was $372. I saw many wonderful guitars and I just hoped that these folks were making a living.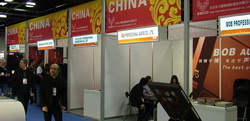 Walking down several rows of products there was a sign in every booth that said "Made in China." Obviously the middle kingdom is trying to make the same inroads into the musical scene that it seems they have made into every other type of product we purchase today. China accounted for 58% of imported guitars value. Interestingly enough, the USA exported 145,000 guitars and imported 255,000 guitars. The value of our exported guitars, however, was $105,000,000 while the value of all our imported guitars was only $46,000,000, so basically we are importing the cheap stuff.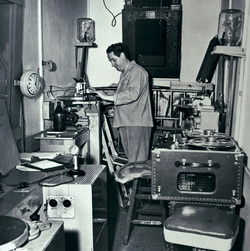 I was intrigued by the booth of one expensive recording equipment manufacturer. They have been known for their compressor/limiters for over fifty years. It's an enviable reputation. But, thinking about it, Les Paul figured out how to multi-track in 1948 and we quickly advanced from 2 to 4 to 8 to 16 to 24 tracks. This well-regarded company is still trying to make their products as they first did in 1958. Back then, their component values were probably calculated on slide rules. In the half century that has passed since then we have introduced calculators, journeys into space, personal computers, cell phones, the Internet and numerous other technological advances. Have we simply been unable to make any improvements in the audio field? Why is it that 50-year-old audio designs are the sound that so many want to obtain? Recording equipment has increased its capabilities tenfold and the price to start to play in the studio game has fallen to well under $1,000. Let's join the present and realize that quality is out there in current software and equipment. I respect people who believe that their best sound comes from a '54 Twin, but the envelope has gone way beyond that and exploring new things is fun.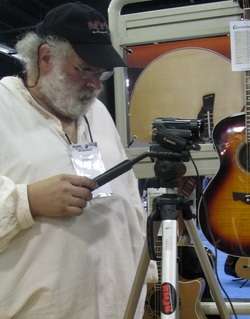 About this time I got a text from Dan and I met him and his crew in the Press Lounge. They were ready to go out and shoot some interviews and I tagged along to run one of the cameras. Sound recording was difficult, because there was so much loud music emanating from all of the booths. We bagged three pretty good interviews and then retreated to the Press Room where, much to our dismay, the members of the working press had consumed all of the food and cold drinks. Then they announced that the Press Room would be closing in five minutes and a glance at my cell phone's clock showed that the convention would wrap in half an hour. I said my good byes and headed for my truck to beat the after-show rush hour on the long trek home to a birthday cake.
Did I see any stunning, must-have equipment at this show? No, I'm afraid not, I couldn't dig deep enough in my one day here to find any hidden gems and I'm sure that you can read everyone else's picks in the other music press.
At BFMN we are not beholden to any group of advertisers and so we don't have to push their stuff. There's a lot of really good equipment out there and these companies all need to make sales, so this is probably a great year to go in and grind a good deal on that dream whatever that you've been wanting.
That might just be this year's best advice: Try it all, find what you like and tell them what you want to pay for it. What have you got to lose?
This entry was posted by
ed.lapple
and is filed under
Review
,
NAMM 2011
,
Edward Lapple
. Tags:
dan grigor
,
edward lapple
,
namm
,
namm show
,
press credentials
No feedback yet

All the news that's foot to print
BareFootMusicNews Fresh Stuff
Search