03/17/12 19:55, by
wakitu
, Categories:
Music News
,
BFMN Exclusive
,
Bands
,
Review
,
Carox
, Tags:
bfmn exclusive
,
house of blues
,
houston
,
iced earth
,
symphony x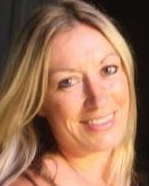 Photos and Review by Carox
The House of Blues Houston is a favorite haunt because of the superb lighting and sound you can experience there. It is also a spot I have seen some of my all-time favorite bands. This night was Warbringer, Symphony X and Iced Earth and I was full of the nervous Carox adrenaline which I experience before supporting major bands like these.
Click through for news from Houston's House of Blues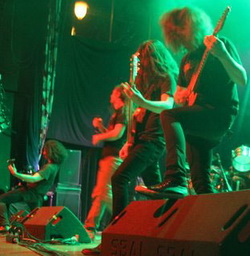 Warbringer is an American thrash metal band formed in 2004 from California, currently under the Century Media label. 
The band currently consists of John Kevill (lead singer), John Laux (guitarist), Andy Laux (bassist), Carlos Cruz (drummer) Andrew Bennett (guitarist - first time on this tour with band).
This band has toured with many of the great metal bands of this century such as Megadeth, Overkill and Testament. You can see a listing of their next shows this year here.
Having listened to all of their albums, I would pause a little at defining this band as Thrash Metal now that they are under the care of their producer, Steve Evetts. In their new album, this hard-working touring band  has departed from total thrash and entered the belly of full steam metal. The topics covered in each track are diverse and the lyrics angry, despairing, anguished and sensational all at once. Here are some from one of my favorite songs: "Living in a whirlwind! / Spiraling out of control! / In the eye of the storm / Disconnected, from the world you were born / Cheating death, just to get your fi / Cannot survive, it's the end of the line." Living Weapon, the opener, is a song about the military, the right to kill and the mental machinery of a paid killer. Because of the clear vocal delivery, the audience can relate to this music and be stirred by it. This band managed to start the mosh pit in the stoic, usually solid crowd of downtown Houston. The drummer and guitarists and bass player are one united, fast-hammering, fast-delivering metal horse.
The set list: Living Weapon, Severed Reality, Future Ages Gone, Demonic Esctasy, Living in a Whirlwind, Combat Shock.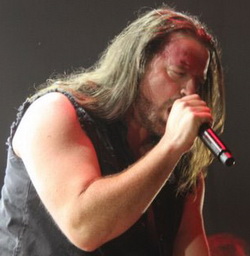 Symphony X came next. This New Jersey band swept the audience into some serious progressive metal.  The band consists of a plethora of talent. Current members are: Michael Romeo (guitar, backing vocals), Michael Pinnella (keyboards, backing vocals), Jason Rullo (drums), Russell Allen (lead vocals), Michael Lepond (bass guitar, backing vocals). 
They began with a song from their latest  concept album, Iconoclast (2011), with the same title. This song is majestic, sweeping with an almost futuristic, choral introduction that then delves into fast shredding fairly quickly. Machines are taking over the world, mankind must "stand and fight." Michael Romeo is an amazing guitarist to watch.  At this point Russell Allen has an entire Houston crowd standing and fighting. This music is very intense and intricate. The End of Innocence is very complex and was the second in the setlist. The lyrics were angry, focused and ruthless; the guitar work is full of interesting time changes and transitions that the frontman deftly accommodates at every turn. "We are the fallen…" his voice turns hauntingly beautiful at a twist of a moment. Dehumanised, also from their new album has, like all their songs, a compelling guitar intro that you know is about to lead into severe shredderdom. By the time this band had played their set, there was also serious mosherdom. The guitarists move in one synchronicity of hair.  The drummer and bass player provide a heavy, dark, succinct beat. Michael Pinella, the genius keyboardist who has been with this band since inception, elevates this music into beautiful, futuristicneoclassicsm. They went out with a bang with Set the World on Fire from the 2008 video.
Their set list was: Iconoclast, End of Innocence,Dehumanized, Bastards of the Machine, Children of a Faceless God,When all is Lost, Electric Messiah, Inferno,Sins and Shadows,Eve of Seduction,Serpent's Kiss, Set the World on Fire.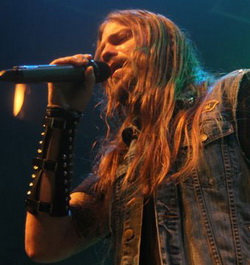 Luckily – and with thanks to the VIP Gods (their tour managers) who I meet everywhere I go – I was also able to take photos of Iced Earth. Speaking of concept albums, this band is absolutely fascinating in its concepts, mythologies and beliefs. Have you ever read a book and got so excited about it that you wanted to discover everything that person had ever written? It was like that for this humble reviewer.  It would take several chapters of a review to sum up the past history of this band that, with 10 albums to their credit, and launched their most recent world tour in 2011.  They just returned from a dizzying amount of countries.
The current members of the band are: Brent Smedley (Drums), Jon Shaffer (Rhythm and Lead Guitars, Backing Vocals), Troy Seele (Lead Guitar), Freddie Vidales (Bass Guitar), and Stu Block (Vocals).  Stu Block is an amazing singer with a range that blows the roof off with an amazing confidence that spills out into the audience so that the band and crowd are connected and at one in the music.
The driving force and mythologist magician behind Iced Earth is Jon Schaffer and this was the first time in the 30 years of his performances that I got to see him play (close-up) and watch intensely the rythmn guitar playing style he is renowned for. I can now unashamedly recognize the galloping technique.
Their set list included: Dystopia, Angel's Holocaust ,Slave to the Dark, Stand Alone, When The Night Falls, Dark City, Damien, Anthem, Declaration Day, Days of Rage, Watching Over Me (a searingly beautiful ballad about loss), Dantes Inferno, finishing with Iced Earth.
Visually, this band is a pleasure to watch. Brent is a serious hammer of a drummer and Jon and Troy cannot be beaten. They have very loyal  and lifetime fans and dedicated one of their songs to the Marines by request. All I could see were branches of human arms waving in the air at every song and folks clutching posters for signing. The momentum developed by the two previous bands was cresting so highly at this point, that I actually had to step outside before Anthem to calm down.
When I looked back as I left, my mouth had fallen wide open  with sheer amazement, and I rode out on a big wave of "killer!"  Hope my photos reflect my admiration.
This entry was posted by
wakitu
and is filed under
Music News
,
BFMN Exclusive
,
Bands
,
Review
,
Carox
. Tags:
bfmn exclusive
,
house of blues
,
houston
,
iced earth
,
symphony x
No feedback yet
translate