10/05/10 23:56, by
dang
, Categories:
BFMN Exclusive
,
Guitar Players
,
Dan Grigor
, Tags:
call for info
,
dan grigor
,
finger exercises
,
green screen trio
,
how to practice guitar
,
practice
,
stay tuned

There is a thing I do every day and I have been doing it for a really, really, really long time. I add a third "really" now that I just had a birthday.
I'm pretty sure that means that I have been playing guitar, very nearly every day, for 50 years. Even during the years of raising kids and having a "real job," part of my income was earned giving guitar lessons or playing local gigs, so I have practiced my guitar a little every day.
Click through for more and a Green Screen Trio video
How to Practice Guitar
Let's talk about practice. Does practice make perfect? Is that what I want as a player? Take it from me, if you create a perfect performance and put it on the internet, someone will complain "It has no heart, it is all technique." Sigh… (Remember this?)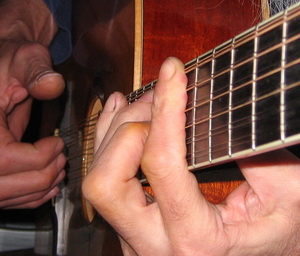 Over the years my style has changed, my voice has changed, my beard is longer and grayer. I've played several different guitars, my calluses are thicker and my fingertips are flat now, but one thing has remained the same. I practice the same way I always have.
I have a routine that changes somewhat as it cycles through several behaviors that line up with the rest of my life. If I am busy making video, I often have my guitar on my lap; there is a lot of wait time while rendering. Push "Go" on the laptop, play a tune or two, and Preview is ready to watch.
I play a lot during commercials while I'm watching TV. I find it difficult to just sit and watch TV. It's boring. I need to have the laptop open or be doing something else at the same time.  I often play during the commercials and forget to stop when the show comes back on. I used to say I was a "commercial programmer" because I would write code on the commercials. Same deal on the guitar. It is a great time to just run up and down the scales or pound out an hour of finger exercises.  If you use an unplugged electric you won't even bother your housemates. It's not like you have to look at your hand… Right?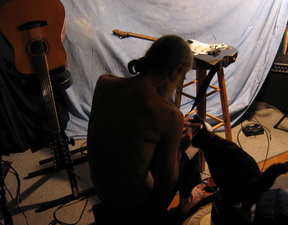 I often use a song as a timer: put the coffee on, play two songs or run some scales and before you  know it, I have practiced and the Nectar of the Gods is hot, fresh and calling me with steamy, empty-water-tank gurgles.
Some days it is 15 minutes, others it adds up to 4 hours or more, no problem. You need stamina to play a few shows in a row, and that needs to be worked on. Some sessions I'm just passin by my guitar and will sit and belt out a song. On hold on the phone? Play 5 minutes of finger exercises or jam with the on-hold music.
My daily routine is a tough one when I'm gigging or getting ready to record. For instance, I'm preparing to play a private party. For a month I have been playing 30-40 songs a day. The show is two sets, mostly my blues songs and a few classic covers.  It's a cool gig with several bands and comedians, some famous and some local.  It's an appreciation party and everything will be on the house. I've done these before they are really fun. This should be a good crowd.
My original plan was to do one set with my band "Call For Info" and one solo set.  So, for the past month, I have been practicing with CFI on 20 of my songs and 22 covers as well as practicing my solo setlist - roughly 40 songs there - some the same as CFI, but in a different key for the 12-string. At the same time, I am doing the music on a video project and writing several new songs that get touched every day. Needless to say, I need to change my strings and my fingertips are "feeling the burn, baby!"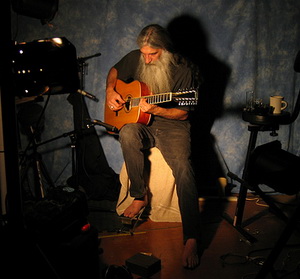 This is how I do it: In my house I have created a space to rehearse. It has everything I need at hand. I have a mic, stand and stool in position. I can flip one switch and pick up my guitar, plug it into the PA and just play. (I also have a stage and lights and cameras and I record everything I do and watch it the next day.  You needn't get carried away; I admit I'm a little nuts about it.)
So, I sit on my stool with my coffee and song lists nearby, get plugged in and then I usually warm up with "Be Yourself," a song I have been using for years to open my show. It is loud, played with a pick and I sing the lyrics to the back row. It is a great song to use to set my volume levels, because once that one is set the others will sound pretty good right out of the gate.  I deep breathe that song and really belt it out to warm up. It clears my throat and the lyrics set my attitude. I play way better when I am myself. I'm kinda cool; when I try to "act" I screw something up and look silly.
I usually warm up with "Be Yourself," a song I have been using for years to open, because it's loud and I belt out the lyrics. Once those volume levels are set, the others will sound pretty good right out of the gate.
Anyway, if I have a show coming up that includes covers, I try to get those out of the way first. I will click the camera on and play 15-20 covers in a row - kablammo - stopping only for coffee.  Some songs I play all the way through, the easy ones I only play the part that trips me up, where the vocal needs work, the tricky ending or whatever.
Then my songs from the setlist for the upcoming gig gets a similar workout, paying particular attention to any new songs or songs from the CDs - they need to sound as good or better live.
Then I play the new songs backward in time until I need a break. I get up and do something else. After a few hours I'll sit down again and work on new stuff.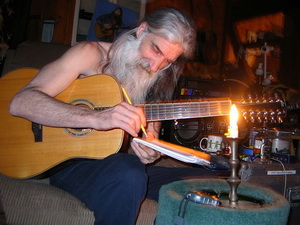 I often write songs that are too hard to play or too high to sing. They take a little woodsheddin'. That means you have to play them over and over and over again, slowly at first and then up to tempo and up to pitch.  I can be relentless when I am in the middle of writing a song. I will play it all damn day 'til I get it right.
Whenever possible I try to get wakitu to help. She's amazing. She knows my songs as well or better than I do and doesn't play a note. I can often entice her to "call songs," randomly picking songs from the big book. She is really good at challenging me with a song I haven't played in a while, or two heavy bar-chord songs in a row, that kind of thing. Then I can just put my head down and play play play. No thinking, a virtual jukebox ready to play any one of my songs or the covers I play. It's tougher than it sounds.
When I am by myself, I often leave the TV on in the other room for background noise while I practice. It is never quiet when you play in front of people.  Some days I put on one of my CDs and just sit there by the back door and sing. I work out where to breathe and how to get good separation, articulating every word. Every other day or so I turn on some tunes and jam some scales with whatever comes on. I have a thumb drive with about 500 songs on it from all genres; rock, folk, blues, jazz, country hip hop. I'll put the boom box on random and just jam on my electric for fun. It is a great way to practice scales. Simply using the rhythm of the song to run exercises is way more fun than plinkplink plonk plonk plink, plink plonk plonk plinkplink.
I play a little every chance I get throughout the day until my fingers hurt, then I play just a little more. That's my job.
You have to pick your own routine. Decide what the priority is, have a plan, make a deadline and get it done, a little bit every day. You may not have enough time to practice till it's perfect, but I bet you can find time to practice till you're ready.
I am ready, at a moment's notice, to play for six hours straight, get incredibly drunk and, with little or no sleep, do it again tomorrow. I have proved it to myself.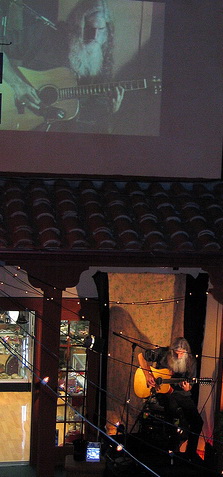 Some time ago I had the opportunity to play four nights for the opening of a spiffy new Wine Bar, on a pretty famous street, in a pretty famous "old" part of a pretty famous city. It was also a video gig with a big screen and four cameras. You could see me from the street; it was pretty cool.
When I landed the gig, I hadn't played live in months. I decided to test myself and I concentrated entirely on the video setup and logistics and didn't practice at all. No setlist, no plan and no index cards; I decided to do it cold.
When the first night rolled around I had no idea what I was going to play. I opened with "Be Yourself" as usual and then an easy blues song. By the third song I had them in my pocket, hanging on my bits and my songs. I played three hours a night for four nights in a row and - except for my top ten - never played the same song twice. I made a few mistakes and one really bad chord change that stopped one song right in the middle. I laughed it off and kept going. It was wonderful. The freedom of the no setlist set. The adrenaline of the unrehearsed and the excitement of the show rushing through me, my image filling a 30-foot screen and my music bouncing off the storefront, downfriggintown - a little scary, to say the least.  I friggin nailed it. Why? Because I practice every day and I have been doing it religiously for fifty years.
Practice makes ready, repetition makes perfect. I don't have that kind of time. I don't need it to be perfect. Some of my best shows have me trying out new songs too soon, songs that are still too hard to play or too high to sing and I usually tell them that. Sometimes you get an audience on your side, eager to hear the new song, rooting you on as you struggle to get it right. Every now and then there is that magical moment, when the new song finds the right crowd on the right night and in the right moment all that practice and time and sore fingers and broken strings and dreams becomes worth it. You play your song as you hear it in your head, THEY hear your song as you do in your head and it all comes together: technique, emotion, spirit, connection to the crowd.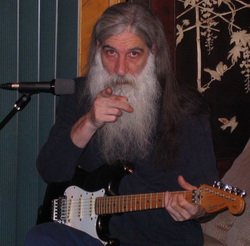 That's what's it's all about. Those moments are worth more than record sales or awards or charts. Those moments are why we play. Getting there is only half the fun.
Are you ready? Go practice.
Stay tuned, there's more.
DanG
Thanks for listening
Please share it with your friends…
Update: There's a pretty good Fark thread going.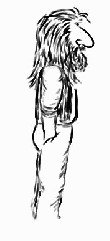 Join the discussion Click Here
A great tip from the thread: Glockenspiel Hero says  "The best advice I got when I started on guitar was to skip buying a case and buy a stand instead, then put it in clear sight of whatever it is you waste time on. (Computer stuff for me) It shames you into picking it up. And for me, getting started is the hurdle- once I'm playing it feels wrong to put it back down. Even if I'm not really practicing, in the sense of working hard on a skill or a riff, just running scales or some easy song I've played before stacks up after a while /I still suck"
See you there.
1 comment
User ratings
5 star:

(1)
4 star:

(0)
3 star:

(0)
2 star:

(0)
1 star:

(0)
1 rating
Average user rating:
*****
(5.0)

Search