04/18/10 02:08, by
ed.lapple
, Categories:
Guitar Players
,
Review
, Tags:
amazing slow downer
,
ed lapple
,
looping
,
pitch
,
recording
,
review
,
software tool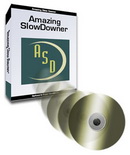 Under the category of useful software tools for musicians, you should definitely put a star next to Amazing Slow Downer by Roni Music. Here's what it's good for and how it can help you.
Have you ever had to learn a cover tune and it just went by too fast? You have to keep backing it up and backing it up and then the cat steals the remote and, chasing her, you knock your coffee over on your notes and… well, you get the picture.
Maybe you just want to deconstruct a favorite guitar player's solo, say some Satriani thing that's all 128th notes punctuated by 16ths. Wouldn't it be easy if you could just slow it down a bit?
Well feed it into Roni Music's "Amazing Slow Downer" and it slows down, way down, all the way down to one fifth (20%) of the composition's speed, maintaining the same pitch all the while.
Of course that's only if you want the same pitch. You can raise and lower the pitch anywhere you want it to go. It allows you to adjust the pitch in increments of 100ths of a semi-tone so that you can bring it into tune with your instrument or just to change the key to something within your range.
The "Amazing Slow Downer" also will work as a speeder-upper because you can increase the speed of the song up to 400% and it will still maintain the pitch. Plus, the software operates in real time so that you can adjust everything on the fly.
It also has a looping function which allows you to designate an in and an out point and it will play that section over and over again, slowly, for you to study. You can easily adjust the loop's point by single frames if you want a precise section to use as a rhythm track while you solo on top of it.
The software works in stereo or mono and it will work on any music CD that you shove into the drive as well as working on almost any audio file from MP3 to Wave to AAC/M4A and iTunes M4P files.
If you have a need to transcribe music, so that you can write out charts, "Amazing Slow Downer" makes it easy.
Kasim Sulton, who has played with Todd Rundgren since 1976 and is Meat Loaf's musical director. called Roni Music's "Amazing Slow Downer" his "secret weapon" for quickly learning a lot of Todd's material.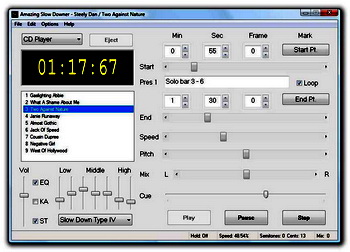 The interface is easy to use and understand. There is a big counter display, with minutes, seconds and frames, so that you know where you are at in the tune. There's a volume control and a 7-band graphic equalizer and you can store 10 separate EQ settings. There are big sliders for Speed, Pitch, Mix, End and Cue, which make for quick and easy adjustments. You have another ten presets that you may store and recall as needed. Set them for anything, segments of the song, different timings or pitches. They store all of the parameters and they are separate from the ten EQ settings. And, for fun, you can try the Karaoke filter. While it's not perfect, this little filter will remove the vocals and lead from a lot of songs so that you can be the star. Just about every keyboard function has a keyboard shortcut command so that you don't have to grab the mouse while you are holding your guitar.
I should also point out that the help files are very well written and they make it simple to use all of the program's functions. Once you have a song in the program, you may save it as a Wave file. This means that you can use the "Amazing Slow Downer" for more than just learning licks from somebody's tune. You can also input music or an announcer's voice over a track, change the speed and pitch to what you need, and then save the results to be imported into another program.
It will also do the math in either direction: if you tell it how long you want the file to be, it adjusts the speed accordingly (some people call that "fit and fill").
Does this sound like a tool that might just be possibly useful to you? Well, you can try the software, for free, at Roni Music. Everything works on it, but you can only play the first two tracks on a CD, or the first quarter of a file-based song. If you decide you like it, you can buy it for $49.95.
This entry was posted by
ed.lapple
and is filed under
Guitar Players
,
Review
. Tags:
amazing slow downer
,
ed lapple
,
looping
,
pitch
,
recording
,
review
,
software tool
1 comment
User ratings
5 star:

(1)
4 star:

(0)
3 star:

(0)
2 star:

(0)
1 star:

(0)
1 rating
Average user rating:
*****
(5.0)
can the amazing slow downer be downloaded from windows to a macbook pro ? if yes then how.
08/17/10 @ 11:12

Search