Category: "Podcast"
08/24/10 04:43, by
dang
, Categories:
Uncategorized
,
Awesome Nobodies
,
Podcast
,
TotalRock
,
New World Order
, Tags:
motley crue
,
new world order
,
tattoos _ tequila
,
tina saul
,
totalrock radio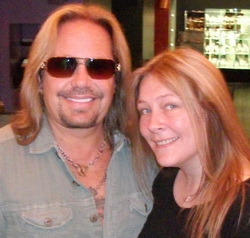 Click and play the Podcast above to hear Tina Saul's exclusive interview with Motley Crue's frontman, Vince Neil, about his solo album and business empire.
TotalRock DJs Tina and Sara present the New World Order radio show, broadcast live from TotalRock Radio every Monday 6pm-9pm (GMT).
The show aims to showcase the best in unsigned and up-and-coming rock and metal talent, as well as featuring the latest news from around the rock globe. Whether you're looking for something new to add to your collection, or want to know what's happening around the world, then this is show for you.
You can check out featured albums, podcasts and upcoming events on their New World Order page, and follow their youtube, myspace, twitter and facebook streams. There is even the occasional competition! Right now, to celebrate the release of Vince Neil's first studio solo album in 15 years, "Tattoos & Tequila," they've got three copies signed by Vince to give away! CLICK HERE to see how you could win one of them!
Be sure to tune in to the show on Monday, August 30, for their two-hour Sonisphere Festival Special and relive memories of the weekend at Knebworth. You can hear Tina's interviews with Joey Tempest, Therapy?, Evile, Enforcer, cKy and VooDoo Six while you flip through Sonisphere photos by Moonshayde in the BareFoot FotoBlog!