All the news that's foot to print
03/21/10 02:21, by
dang
, Categories:
NAMM 2010
,
BFMN Exclusive
, Tags:
2010 namm
,
55th birthday guitar
,
barefootmusicnews exclusive
,
c_f_ martin
,
d-18
,
d-28
,
dan grigor
,
double neck
,
gold coin custom
,
martin museum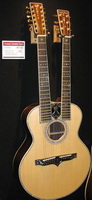 This is Part Two of  the  video tour of the whole NAMM 2010 Martin Guitar booth. We get to see the entire line of guitars. Chris Thomas, the extremely knowledgeable Booth Host, shows us every guitar in the house and is then kind enough to sit down and talk about C. F. Martin: the man, the guitars, the company. It is a great interview. Subscribe and don't miss a thing.
In this five-part series we will see all the guitars, have a sit-down interview with Chris and we'll top it off with an exclusive interview with Jorma Kaukonen and get to hear him play his new guitar.
Catch up with Part One then Click through for Part Two of the five-part BareFootMusicNews exclusive video tour.
Part Two starts with bluegrass great Dan Tyminski's beautiful signature d-28 followed by the special limited edition Chris Martin 55th birthday guitar. They made only  55 of these replica  1955 museum piece d-28s. The attention to detail to ensure that they are period correct in every way is indicative of how Martin does business. After that we came upon a wall of "one-offs." These are one-of-a-kind Martin guitars, including special finishes and the Gold Coin Custom, with coins inlayed in its neck; the price of that guitar fluctuates with the price of gold. The amazing Double Neck, a stunningly appointed 6-string/12-string came next. There are only 2 of these in existence. One is in the Martin Museum and this is the first time the other has been in a show. It is a also a museum piece, though, and not for sale. Chris tells me that I was the only person at NAMM 2010 to play it. How cool is that?
Then there is a custom restored 1969 d-35 salvaged and rebuilt to the traditional 50s style finish with honest-to-god-you-gotta-see-this inlay running up the neck. We finish, a little breathless, with the innovative Grand Jumbo Baritone guitar with an elliptical offset sound hole and the sound port on the side. This is such a cool idea. On the topside of the guitar there is a cleverly placed sound hole so the player gets to hear from a totally different perspective.
We're not done yet!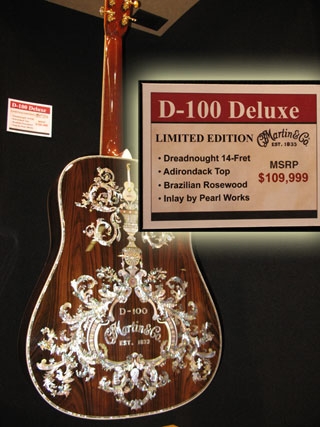 Part Three is next and starts with the 109 thousand dollar D-100. Words fail to describe the inlay work, pick guard and rich finish of this absolutely stunning guitar. Again, Chris said I was the only person at the 2010 NAMM Show to play this guitar. Let me tell you, I put my ear against it and played it. On the very loud show floor, in the busy booth, chaos all around and that guitar sang and rang against my chest and sounded so beautiful. I dream of recording something on it… anyway, where was I?
Ahh! We get a peek at the new sustainable wood series and the woods and finishes are something to see. The OMCE Mahogony 100% FSC certified wood. This special edition includes a Mi-Si simple jack and electronics that don't require a battery. It is more like a capacitor that you charge for 60 seconds and you get a whole gig's worth of juice. Another eco-friendly Martin innovation. Next up is the David Crosby Special Edition 12-string. Built to the specs of the first custom model where, in the 60s, Crosby had a luthier put a 12-string neck on a 6-string Martin d-18 body. On the next wall there is the 5-18 Marty Robbins size 5 guitar. It has a mother-of-pearl state of Texas inlayed into the fingerboard. We see the blonde maple, Laurence Juber signature series with the D-Tar pickup and a 14-fret cutaway. We finish the tour back where we started and see the whole line of ukuleles, including the super affordable OXK series.
All in all, it is an exhaustive tour of the entire booth and I must say Chris did an amazing job. Not only did he take us on the tour but, in Part Four, he sits down with us and tries to explain why all of our favorite guitar players at one time or own a C.F. Martin Acoustic Guitar.
This entry was posted by
dang
and is filed under
NAMM 2010
,
BFMN Exclusive
. Tags:
2010 namm
,
55th birthday guitar
,
barefootmusicnews exclusive
,
c_f_ martin
,
d-18
,
d-28
,
dan grigor
,
double neck
,
gold coin custom
,
martin museum
No feedback yet

All the news that's foot to print
BareFootMusicNews Fresh Stuff
Search