All the news that's foot to print
02/24/12 01:00, by
dang
, Categories:
Dan Grigor
,
Review
,
NAMM 2012
,
NAMM 2012 Music
, Tags:
brockett parsons
,
gaia
,
joe _flip_ wilson
,
jupiter-80
,
namm
,
patrick lamb
,
roland
,
roxboro
,
stanley clarke
,
tyra juliette
,
v-drums
by Dan Grigor
There is a room at every NAMM show that isn't part of the main exhibit hall area. It is outside, all by itself near the John Lennon Stage, by the bus. It is a magical place. It is the Roland Room.

Roland is one of those companies that has created technology for all of our favorite tools. Keyboards, guitars, drums, live sound, recording equipment, microphones, monitors – the list is endless and they have been consistently on the front edge. Innovators of some of our favorite sounds, they seem to have perfected the business model for the digital age. Providing cutting-edge technology in user-friendly instruments with price points for consumers and pros alike. When you see the Roland logo you know great minds have been at work.
Click through for the video from the Roland room!
Some things are easy even for Roland. Here's what they did: they filled a stage with incredible instruments, a PA, microphones and monitors. Not just any stuff, no, not in the Roland Room. They had the top of the line, the pick of the litter from the incredible line of Roland instruments, and they plugged it in. Then they invited a select all-star group of music makers and set them loose. They, in turn, pulled up band mates and friends from the crowd. So there they were, an amazing group of seasoned pros in Candy Land. It was, needless to say, wonderful. A room full of Roland fans, music fans all, sat and listened to some of the best music of the whole weekend. What a treat!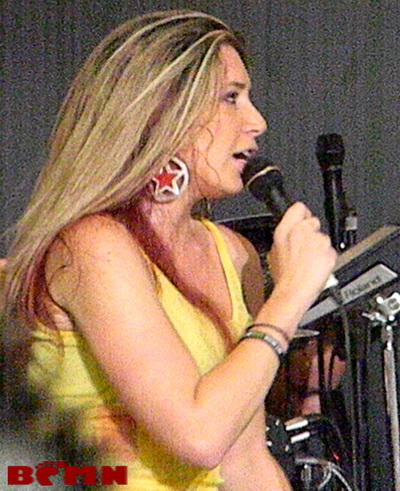 A couple of our friends were in the show. Very cool folks we met during our time with Roxboro Entertainment, at the launch party for Stanley Clarke's brand new label. So, of course, we had to send a camera crew to capture some of the show and – from crowd-bumped cameras in the packed house – they managed to bring back some cool bits to share.
Starting with this performance video we will have a series of stories for you. We'll show you the new cool stuff from Roland and some old favorites. Next up we have a great piece on V-Drums with a demonstration of an amazing new tool with technology specifically designed for percussionists that are ready for the digital age.  You will see a beautiful setup in the video – the TD-30 part of the V-Drums V-Pro Series. I love the tag line for these: "The Dawn of SuperNATURAL-Powered V-Drums…Play, Feel, Believe!" Perfect, and kind of true. I'm beginning to believe… they do seem to be somewhat super-natural, they are certainly super-sounding. Close your eyes and start the video, then open them and see if the drums look like what you hear.
At any given moment there were 3 or 4 all-pro, all-star keyboard players up there and in front of each was a JUPITER-80 and a GAIA. Are you jealous yet?
The Jupiter-80 Synthesizer is billed as the "Metamorphosis of a Legend."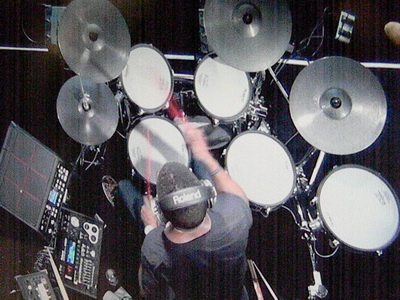 The latest version of this road-ready veteran still feels like an instrument, not a toy. A live-show  staple for a generation or so, the new one steps into the new age with its SuperNATURAL® technology. The natural feel and sound take synthesis into the game with multi-layered textures under control from a touchscreen that is easy to navigate even in stage light. The rich history of this old favorite, coupled with the new tech, promises to deliver and from the sound of it, it will deliver for years to come.
The GAIA on the other hand is a cool little synth that puts analog synthesis under your fingers, but the control panel is so easy even beginners can find great sounds right out of the box. Flow is simple – logical even – and you couldn't ask for a better "top" tier set of keys. Paired with the JUPITER-80, it is every sound you would ever need and then some and probably a good fantasy for a young keyboarder coming up. A goal reached easier than you think, thanks to Roland. The Jupiter is right around 3 grand and the GAIA is well under a thousand. Backed by Roland, that's a great deal of music for a great deal.
Also on the stage they showed off a couple of BK5 keyboards. An awesome workhorse keyboard with 1100 sounds and dozens of drum sets. It does 128 voices and is compatible with BM@, GS and XGLite. Plug in a Standard MIDI file and you can fire the whole band and go on the road. You'll hard pressed to find a better all-around set of show keys than a BK5 for under a grand.
All right, enough teasing. Go watch the video and hear for yourself. From the mic to the keyboards to the drums to the speakers, everything Roland touches is gold… it's almost…  SuperNATURAL®
From the Roland Stage at NAMM, a wonderful mix of all-star players get together and JAM using some of the coolest tools at the show. This clip features: Kern Brantley, Valdez Brantley, Tyra Juliette, George Spanky McCurdy, Brockett Parsons, Scott Tibbs and an awesome sax solo from Patrick Lamb. These are some of the best musicians in the business and they have played with the likes of Lady Gaga, Beyonce, Earl Klugh, Grover Washington Jr., Kid Rock, Puddle of Mudd, Cher, Dionne Warwick, Bette Midler and too many more to name. We have more coming up from Roland.
Stay Tuned!
This entry was posted by
dang
and is filed under
Dan Grigor
,
Review
,
NAMM 2012
,
NAMM 2012 Music
. Tags:
brockett parsons
,
gaia
,
joe _flip_ wilson
,
jupiter-80
,
namm
,
patrick lamb
,
roland
,
roxboro
,
stanley clarke
,
tyra juliette
,
v-drums
No feedback yet

All the news that's foot to print
BareFootMusicNews Fresh Stuff
Search