All the news that's foot to print
06/22/11 17:18, by
dang
, Categories:
BFMN Exclusive
,
Dan Grigor
,
Review
,
NAMM 2011
,
NAMM 2011 Music
, Tags:
jarrell guitars
,
jerry miller
,
seymour duncan
,
steve cooke
,
steve pevar
,
tasty riffs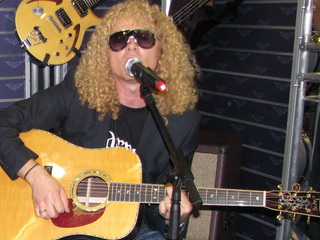 We always have fun at the NAMM show.
One of the things we do while there is dedicate some time to just wandering around catching snippets of sound for our Tasty Riffs Video Series. While on one of these excursions, Wakitu stumbled upon Steve Cooke and Steve Postell playing at the Jarrell Guitars booth.
It was too good to pass up, so she hung around and shot them, and eventually made an appointment for us to meet with Phillip Jarrell himself to find out about the company and the guitars. They are beautiful to look at and sound good for very good reasons and we wanted to find out exactly what makes them so special.
Phillip was tied up talking business as our interview time approached – which is an exhibitor's goal at NAMM, after all – so we got to spend a little time checking out the nearby booths.
As often happens to me when surrounded by guitars, I got a little sidetracked on the way back to the interview. You see, Jerry Miller of Moby Grape fame was playing next door at the JP Guitars booth, and I got the chance to talk with him and jam for a bit.
So, unfortunately, I missed my appointment with Phillip and, though he was quite understanding, we had to reschedule. As is often the case at the chaotic convention we never really hooked up again. We did get back to the booth and caught Jeff Pevar, Steve Postell and friends kicking it up, though.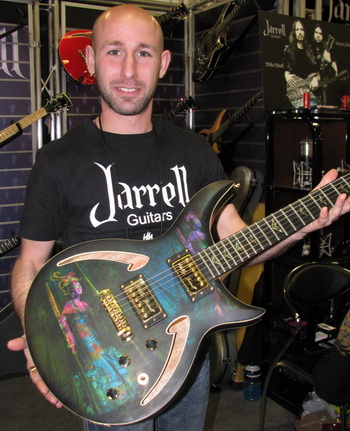 While we hung around hoping to meet with Phillip again, we talked with D J Lupo and he showed us the whole line. He did a great job and we had fun playing with all the stuff. More importantly, DJ explained why the quality of the guitars is as good as it is. Jarrell Guitars specializes in matching just the right pickup to the tonewoods they use, and that combination produces the signature Jarrell sound. Working together with the arsenal and know-how of  Seymour Duncan, they create a hand-made, hand-tuned guitar and pickup combination that look as unique as they sound.
Speaking of their looks, they are incredible. For one model, photographer Phillip Jarrell took a photo crew and a bevy of models to an ancient bamboo forest and captured the beauty of the scene on film. The finished, stylized images were then laminated into the finish on the backs and tops of the guitars. They are nothing short of stunning. The images, the gold hardware, the inlay and the beautiful tonewoods are all finished to perfection.
We were stunned to find out that they are available for less than a thousand bucks with a hardshell case, strap-locks standard, and as a nice surprise, a soft case is included as well. You can pay more, but even the low-end line plays like it should cost a whole lot more money.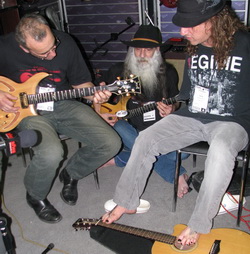 Well, that was that, or so we thought. On the last day of the show, just about closing time, we stumbled upon Mark "Big Toe" Goffeney wandering the halls. We decided to see if we could find a few guitars to play and jam a little. I hadn't seen him in a year and it was cool to catch up. As late as it was, it was tough to find a booth that wasn't half torn down and most of the guitars were put away. Low and behold, when we got to the Jarrell booth they still had a few there and - because they offer an entire line of amps and mics in addition to beautiful guitars - they quickly and very kindly plugged us in and Big Toe played while the convention folded around us. They were literally rolling up the carpet around us while we played.
Shortly after our jam after goodbyes and buys they threw me out and our NAMM show ended. (More on that later.)
Stay Tuned…
No feedback yet

All the news that's foot to print
BareFootMusicNews Fresh Stuff
Search