All the news that's foot to print
12/06/10 20:29, by
catfish
, Categories:
NAMM 2010
,
NAMM 2010 Music
,
Frank Butler
,
NAMM 2011
, Tags:
carol kaye
,
dan grigor
,
deke dickerson
,
guitar geek
,
jorma kaukonen
,
namm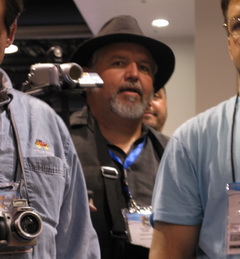 So here at BareFootMusicNews.com, we are gearing up for the 2011 NAMM Show in Anaheim, California. It is in January on the west coast and in the summer in Nashville. So what is NAMM?  Well it is not a Vietnam War memorabilia convention. It is a convention for music manufacturers. Companies that make guitars, amps, pianos, drums, strings, cords, microphones, stage lighting-you name it, will be there showing off their latest models to companies that sell these products.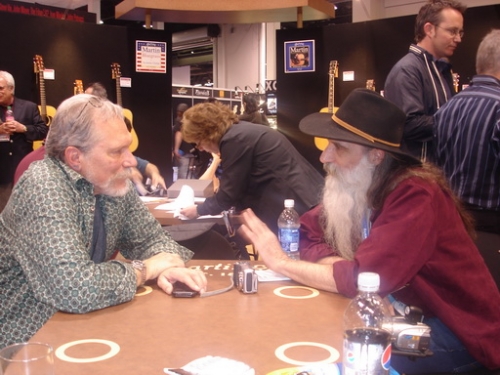 What makes it really interesting is that musicians are brought in to demonstrate and talk about these pieces of equipment. Some are good musicians you never heard of – the test pilots for the factories. Others are famous musicians. Last year Ted Nugent, Gene Simmons, Carol Kaye, Jorma Kaukonen, Seven and a wave of other big names were there endorsing one thing or another. Those guys and gals wear the black "artist" badges and they roam the floor of the convention when they are not endorsing the products they are paid to endorse, signing autographs, jamming with strangers, having their photos taken, or being interviewed by us and a small handful of other journalist/musicians.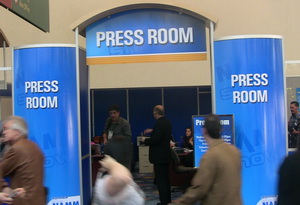 It is tough to get in. I get in under a Media Pass. That has some perks. Press credentials give you the opportunity to skip the lines and go around the velvet ropes and make a b-line for artists. Who is that guy who cut in at the front of the line? That would be me! Sorry folks – got a job to do. The manufacturers have no objections, as we are filming and interviewing them and their endorsed musicians, ultimately promoting their products for them. We have a Press Room with food and drinks and computers and a staff at our disposal. I have met some very talented journalists and famous musicians in that room.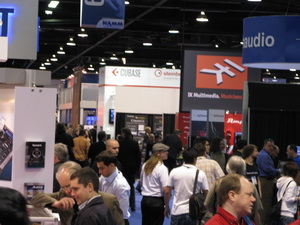 I know and play with a lot of musicians; some are world touring guys, others that barely can pull off playing at a jam at a dive bar. But those guys all have the same problem. They can't get into NAMM. It is by invitation and the whole point of it is for manufacturers of musical equipment to find buyers that want mass quantities of instruments to sell in their stores. It is not for a sea of musicians to come in and manhandle all of the demos with no intention of buying more than a t-shirt and a turkey sandwich. So  I have to say to all my buddies, "Yes, I am going to NAMM" followed immediately by "NO, I can't get you in."
Lots of entertainment is scheduled throughout the convention, with bands and artists playing stages accessible to the public. The Main Stage is in the lobby, and the John Lennon Stage is outside. There is an annual drum circle in the courtyard and after-parties at every hotel within walking distance. The Hilton and Sheraton Hotel are on the grounds of the Conventions Center, and the public are welcome to party hard each night with some amazing bands with no cover charge.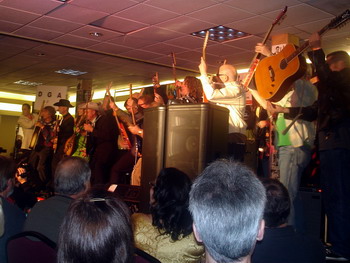 I will be bailing on January 15th after working the floor at NAMM, leaving all that fun behind, because there is even more funner fun (if my editor will leave that in) at the Guitar Geek Festival. It is about as close to the convention as my parking space – not far. It is $35 to get in, but what you get is an evening of some of the world's best guitarists, playing and hamming it up for the crowd in an informal way that lets everyone know it is a private party, and you are on the A-list if you got in the door. With only a hundred seats and a room capacity that is 400, it is a beehive of smiling guitar fanatics. Hosted by Deke Dickerson, this next one will be the 8th time people have walked away from great entertainment for free just down the street, to pay to be part of this event. I will be there this time again, my friends fighting to save me a seat per usual. Good luck with that, guys – I assume I will be standing. Besides being a great musician and entertainer, Deke has an amazing museum of rare guitars, lap steels, double necks – many of which are one-of-a-kind or the original prototypes. That museum is brought to the show, and many including myself, try not to drool too much while admiring his collection.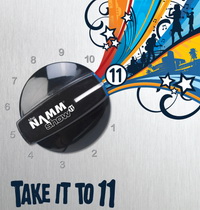 I look forward to checking out all the new gear at the NAMM show, filling up my pockets with free swag (much of it of no use to me) and interviewing and jamming with some killer guitarists, bassists, harp players, etc…and networking with other journalists. I will undoubtedly see old friends there and make a few new ones too.  I will keep you posted. We will have enough footage to make a movie, and the best of it will be on this site soon. You should click that bookmark tab right now. Don't miss out!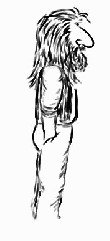 Check back in; wakitu is putting together a great set of NAMM images in the BareFoot FotoBlog.
For now, here is a not-to-be-missed playlist of our videos from NAMM 2010!
Featuring: Dan Grigor playing the hundred and ten thousand dollar Martin D-100 and Catfish and Dan playing the Fender stage. Also, songs from Anton Oparin, Orianthi, Tallan Noble Latz, Steve White and more. Schecter Guitar reviews, Hanson guitar reviews, touring the Martin booth, exclusive interviews with cool people and some tasty guitar riff comps Dan made from sounds captured on the convention floor.
This entry was posted by
catfish
and is filed under
NAMM 2010
,
NAMM 2010 Music
,
Frank Butler
,
NAMM 2011
. Tags:
carol kaye
,
dan grigor
,
deke dickerson
,
guitar geek
,
jorma kaukonen
,
namm
No feedback yet

All the news that's foot to print
BareFootMusicNews Fresh Stuff
Search