Category: "Frank Butler"
02/08/10 15:30, by
catfish
, Categories:
NAMM 2010
,
BFMN Exclusive
,
Frank Butler
, Tags:
barefootmusicnews
,
blues guitar
,
catfish
,
dan grigor
,
namm 2010
,
t-man
,
tallan latz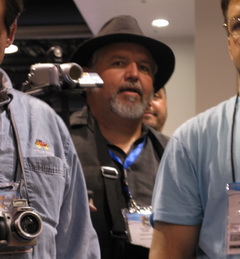 As I wandered aimlessly through the Winter NAMM 2010 main floor, I was reaching maximum overload with all the noise and the sheer number of people who were there on Saturday, the busiest day. There was so much to see and hear and touch that I only saw about 10% of what was there. That took 4 eight-hour days.
I didn't see Roland Amps; they had their own building at the convention. I never made it to Yamaha; they were in a separate building, too.   I thought I saw Gibson. but it was a mirage…. We will talk about that another time…
Out of the corner of my eye I caught something just one second before passing by, oblivious.
It was the "T-Man," Tallan Noble Latz, surrounded by fans only 8 or 10 feet away from me.  This kid is what I wish now that I was at ten years old: a fantastic blues guitarist with the world begging for more. When I was ten, I was lighting G.I.Joe characters and model airplanes on fire…but that's another story.
<< Previous ::