All the news that's foot to print
08/23/11 05:44, by
dang
, Categories:
Dan Grigor
,
Review
,
NAMM 2011
,
NAMM 2011 Music
, Tags:
12-string
,
alice cooper
,
crafterusa
,
dan grigor
,
floating
,
home alone
,
namm

Making and strengthening relationships between local music store owners and distributors are important aspects of NAMM conventions.
Click through for more, with video tours and samples from the Crafter booth!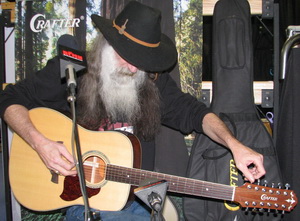 Running a small, local music store is not an easy way to make a living. You can't compete with the prices available at big-box stores or online, but a smart owner gets to know all the local musicians and keeps a wide variety of this-and-that on hand so he can be the go-to spot for the musician in need. It could be anything musical, from reeds to drumsticks, cables and strings for everything or a brand-new tuba for the school band geek, so it makes sense for store owners to try to make deals with distributors that carry a complete line. That way, they can inventory a sampling of the whole line of guitars available, get to know it and help find just the right guitar for whomever may walk in the door. The problem with that is finding the right company.
For reasonably priced, really well-made guitars that will last a lifetime, that company could be Crafter. CrafterUSA distributes here in the states and we stopped by their booth to get the whole story. We chose Crafter because they carry a full line of beautifully appointed, beautifully made guitars with nearly 60 models under a thousand bucks.
We sat down with Ryan who told us about about the 12-string and the anniversary Cranebirds Rose 6-string cutaway.  It is simply gorgeous. We jammed a little to hear how they sound and he showed us his favorite of the bunch.
I was on a mission to play all the 12-string guitars at NAMM and this was a nice one. While we were there, I played a set for a small crowd and talked about its playability. I played at least five guitars while at the Crafter booth, but I really fell in love with this 12-string. It had great bottom end and an easy neck to play. It was just beautiful. The 12-string comes with a built-in LR Baggs preamp/tuner and piezo pickup under the saddle and, as a bonus, alongside the standard 1/4″ jack is an xlr jack. No need for a DI box; you can go straight to the snake.
In the last segment we take a video tour of the whole booth. You can see some of the other inlay work, a whole lot of Crafter Guitars and a sampling of the other products available to the music store owner through CrafterUSA for the care and maintenance needs of his musical customers. They even offer a line of electrics under the name Cruzer, made by Crafter, which also includes a line of stompboxes. Frankly, there was just too much to show it all.
There is bound to be a Crafter Guitar that will not only fit your hand and your style but your budget as well. Click over to CrafterUSA and find a dealer near you. Once you play one you'll see what I mean.
No feedback yet

All the news that's foot to print
BareFootMusicNews Fresh Stuff
Search