All the news that's foot to print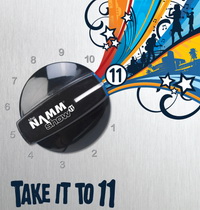 NAMM Members have joined together to sponsor an online talent contest. The prize is a once-in-a-lifetime opportunity for aspiring musicians to "Take It To 11" on the big stage at the 2011 NAMM Show to be held January 13-16 in Anaheim, CA.
Individuals, not bands, will compete for seven performance spots: drummer, bass player, vocalist, percussionist, two guitar players and a keyboard player.
Click through for details on how to
submit your entry and cast your vote!
Musicians can upload performance video entries until November 10 at coverband2011.com or sonicbids for preliminary public voting.
Viewers can vote for their favorite performers between November 11 and 25.
The top five finalists in each instrument category are then judged by a celebrity panel. The 2011 panel includes Red Hot Chili Peppers' drummer Chad Smith, who will judge the drum performances.

CoverBand is giving away $40,000 worth in prizes, including products, airfare and accommodations. Winners will receive an all-expenses-paid trip to the 2011 NAMM Show, gear from the sponsoring brands, and the opportunity to perform before a live audience at the show. Winners are also guaranteed an appearance on a Musician's Friend cover in 2011.
Sponsoring NAMM Members include SABIAN, Latin Percussion, Toca, Genz Benz, Ovation, Gretsch Drums, Audio-Technica, Hercules, Fender, Casio, Gibraltar, Musician's Friend, Harmony-Central.com, Sonicbids.com, Modern Drummer magazine, Guitar Player magazine, EQ magazine, Keyboard Player magazine, and Bass Player magazine.
Last year Karl Perazzo, percussionist with Santana, served as music director for the band. More information is available at coverband2011.
This entry was posted by
ed.lapple
and is filed under
NAMM 2011
. Tags:
coverband 2011
,
coverband2011_com
,
namm show
No feedback yet

All the news that's foot to print
BareFootMusicNews Fresh Stuff
Search