All the news that's foot to print
05/13/10 16:13, by
dang
, Categories:
NAMM 2010
,
Frank Butler
,
Dan Grigor
,
Review
, Tags:
barefootmusicnews
,
catfish butler
,
dan grigor
,
hanson guitar
,
interview
,
john pirruccello
,
review

We stopped by the Hanson Guitar booth at NAMM 2010 and met John Pirruccello. He showed us the new line of eight Hanson guitars for 2010. They are gorgeous! We also learned something. Hanson is also a pickup company. They design and manufacture vintage-style electric guitar and bass pickups and electronics. So, needless to say, the pickups in these guitars are custom-wound by Hanson themselves. If the guitars we played are any indication of the quality of tone, you can replace your old pickups without fear. They didn't reinvent that vintage sound but they somehow manage to deliver it as true as I remember.

Catfish picked up a Cigno and drew a small crowd playing the blues. The convention floor was full of people and once you start playing something, those around you come for a look at the new toys. We had cameras and microphones and tripods so we were already kind of a spectacle – being barefoot always helps – add in Catfish crankin' out the blues on a vintage-sounding, brand-spanking-new, lacquer-black Cigno, and you've got something.
Click through for our review and watch the video to hear and judge for yourself.
A solid Mahogany body and set-neck design add up to incredible sustain in either the Bigsby tail or stop tail version. John told me they used classic P90-style pickups but custom wound for incredible complexity and power. With its 3-pickup design, it is a very versatile guitar. A single volume and master tone is combined with a 5-way pickup switch. We found the placement of the switch between the volume and tone knobs interesting. I'm still on the fence about that. I like my volume and tone together. Frank didn't seem to mind, but he tends to switch pickups more than I do.  I tend to fiddle with the knobs. Overall, it had fabulous tone and nice, low action on a fast neck. The body shape is a vintage look and it hangs as well from a strap as it sits on your leg. The Cigno also features a TonePros licensed adjust-o-matic fixed bridge with fat posts that lets you set individual string intonation and a cool back-painted gold pick guard to top off the retro look.
From what we saw, we can say that a Cigno will drive your amp to its limits for retro crunch and punch or ring loud and long with clean, impeccable clarity.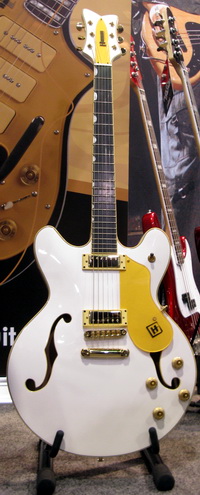 Next, I played the Chicagoan, a classy-looking semi-hollow body available in White Pearl or Black Sparkle. For a black-tie guitar this amazingly versatile instrument would be as comfortable in a redneck biker bar. It flaunts a bound maple top, sides and back, set maple neck with an ebony fingerboard and pearl fret markers. All gold hardware including a Tune-o-matic bridge, either a Bigsby or a stop tail piece and enclosed full-size tuners. John tells me they wanted to create a guitar with a hollow's warmth but with an aggressive rock/blues definition and power. They nailed it with this one. Custom-wound mini-humbuckers of their own design add a luxurious set of tone selection. This guitar gets clean in its full range – concert hall clean. Crank it up and your blistering blues riffs and slappy funk tones come alive with rich sustain and bottom end.
I think I put it through its paces. The crowd seemed to enjoy it, though I wished I'd had a microphone. I was set for a show; I looked really good holding that purty geetar. I flicked switches and fiddled knobs and played all kinds of music on it from rockabilly to jazz and I never found a tone I didn't like. Rich and fat like an old 335, or crisp and country like a vintage Gretsch, the versatility of this guitar is obvious. I found the knob and switch placement very comfortable and at 9 pounds or so, a 4-hour show wouldn't be too bad. It hangs well and sits on your leg like it belongs there.
The price is just about right, too, on both these beautiful guitars, at significantly less than a grand for any of them. A working player couldn't go wrong adding one of these to the arsenal and if you are looking for your first semi-hollow body, big guitar you are in for a treat with the Chicagoan.
1 comment
User ratings
5 star:

(1)
4 star:

(0)
3 star:

(0)
2 star:

(0)
1 star:

(0)
1 rating
Average user rating:
*****
(5.0)
I absolutely love my Cigno & have nothing but amazing things to say about the entire line & the Hanson company in general! The Real Deal gang. Thanks for writing about these gems & keep up the good work!
05/14/10 @ 08:23

All the news that's foot to print
BareFootMusicNews Fresh Stuff
Search