06/12/12 20:18, by
wakitu
, Categories:
Music News
,
BFMN Exclusive
,
Bands
,
Carox
, Tags:
carox rox
,
house of blues
,
houston
,
michael sweet
,
oz fox
,
robert sweet
,
the covering
,
tim gaines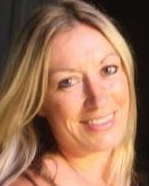 The last time I saw the Christian rock band Stryper was at Rocklahoma a few years ago. They were headlining and the crowd was so massive I had to watch them on a screen that was overhanging the stage. I went to see them again this night in a much more intimate setting, at House of Blues, Houston, a few days before my trip to Rocklahoma 2012.
Click through for more from House of Blues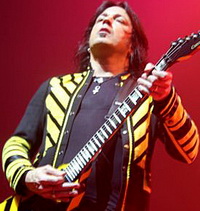 Stryper comes from Orange County, CA. Their name comes from Isiah 53.5, referring to the whiplash stripes given to Jesus by Pontius Pilate, interpreted in the band's clothing in trademark black and yellow stripes that also can be seen on audience members. They throw Bibles at the crowd and I was told to put my devil horns away several times!
Michael Sweet also readily mentioned a "thank you" to the fans who had stuck with the band even during troubled times and talked about the fact that the band is now playing in force with all its original members.
The members are: Michael Sweet (vocals),  Robert Sweet (drummer), Oz Fox (lead guitar), and Tim Gaines (bass guitar). The set list was: Battle Hymn of the Republic, Sing Along Song, Loud N' Clear, The Rock That Makes Me Roll, Reach Out, Calling on You, Free, More Than a Man, Breaking the Law (Judas Priest cover), Heaven and Hell (Black Sabbath cover), Makes Me Want to Sing The Way. Encore: Abyss (To Hell with the Devil), To Hell with the Devil, Soldiers Under Command.
I do not want to repeat a dull, parrot-like history of this band. There is nothing dull about this band and, besides, our readers can easily look that up online. Let me just say that their latest work, The Covering
was released this past year as a tribute to artists that have inspired them and some of those songs were played this night.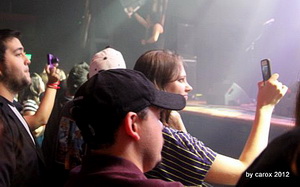 They are all trim, energetic and great musicians. They are also good looking! Michael Sweet is a passionate, inspiring singer with the confidence of his own faith. His brother is a top-notch drummer. Oz Fox had us mesmerized with his guitar skills. Tim is a more laid-back member. Just because this band is a Christian band does not mean you are at a church service – these guys are rock stars, and the audience was head banging, generally rocking out and everyone knew the words. Some of the audience had not seen Stryper for several years. Getting to the front of the stage was as tough a task as ever.
My VIP moment was meeting Oz Fox who came out specially to meet his aunt who had come to the show. He is super cool, so was his aunt.
This entry was posted by
wakitu
and is filed under
Music News
,
BFMN Exclusive
,
Bands
,
Carox
. Tags:
carox rox
,
house of blues
,
houston
,
michael sweet
,
oz fox
,
robert sweet
,
the covering
,
tim gaines
No feedback yet
translate