11/03/10 19:38, by
wakitu
, Categories:
Music News
,
Bands
,
Review
, Tags:
del bromham
,
iron maiden
,
karl randall
,
move it
,
noel buckley
,
steve harris
,
stuart uren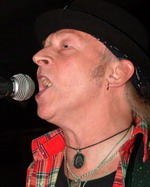 To a lot of Americans, Stray are best known for the track "Move It" which was used in a General Motors TV commercial earlier this year.
However, there is a lot more to this band than just that. In fact, the band were so popular in the 70s that both KISS and RUSH asked Stray to support them on their first UK tours to ensure sell-out venues.
Click through for more and Click Here to see Noel's photoset of Stray!
Click Here to see Noel's photos of Stray bigger and uncropped!

Formed in 1969, the band, led by original guitarist Del Bromham and backed by the driving force of bass player Stuart Uren and drummer Karl Randall, have arguably just released their best-ever album, Valhalla
. Produced by the legend that is Chris Tsangarides (AC/DC, Thin Lizzy) the album was released on Angel Air Records and has been getting rave reviews in the UK, including airplay on national radio.
On October 30, at the Standard Music Venue in London's East End, the band brought the "VALHALLA" tour to a storming end.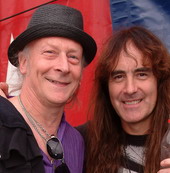 You know it's going to be a special night when lifelong Stray fan, Steve Harris of Iron Maiden fame, is spotted in the sell-out crowd. Harris is such a fan of the band that Maiden covered All in Your Mind on the B-side of Holy Smoke.
The great thing about Stray is that they don't depend on the past. Tonight's set is made up mainly of songs from the new album.
Kicking off with Come On Over (ironically covered by Laureen Harris), Stray treated us to nine tracks from "Valhalla," each one a gem in its own right.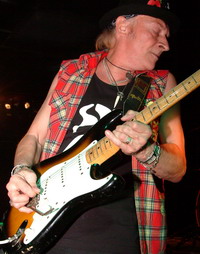 1600 Pennsylvania Avenue and Harry Farr both deal with the futility of war. Skin and Double Six both have a real funky feel, whilst Move a Mountain, Free at Last and 24/7 are hard-driven rock at its very best.
Former frontman Pete Dyer joined the band for two songs, Houdini and Percy the Pimp, before the classic All in Your Mind brought the set to an epic end. In fact, I'm sure I saw Steve Harris singing along.
Stray are a great band and, like good wine, just get better with age. Check em out online at www.stray-the-band.co.uk and live whenever and wherever you get the chance.
Click Here NOW to go to the BareFoot FotoBlog 
to see Noel's entire photoset of Stray bigger and better!
Set list: Come on Over / Move a Mountain / Dirt Finger / 1600 Pennsylvania Avenue / Free at Last / Harry Farr / Skin / Double Six / Ghostwriter / 24/7-Time Machine / Jerico / After the Storm / I Believe It / Houdini / Percy the Pimp / Buying Time / All in your Mind. Encores: Hallelujah / Rock'n'Roll / Move It.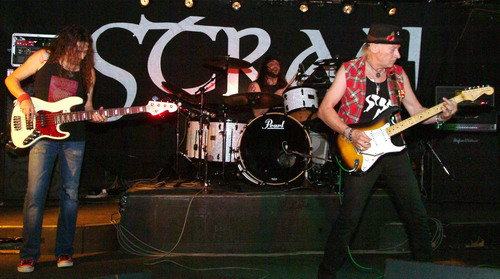 This entry was posted by
wakitu
and is filed under
Music News
,
Bands
,
Review
. Tags:
del bromham
,
iron maiden
,
karl randall
,
move it
,
noel buckley
,
steve harris
,
stuart uren
No feedback yet
translate