04/17/12 03:12, by
wakitu
, Categories:
BFMN Exclusive
,
Review
,
Featured Artist
,
Carox
, Tags:
balls out
,
carox
,
feel the steel
,
house of blues
,
lexxi foxx
,
michael starr
,
satchel
,
steel panther
,
stix zadinia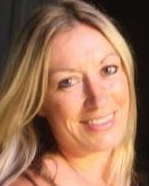 Photos and Review by Carox
I was told that I might not get home from the Steel Panther gig if they abducted  me on their tour bus or nabbed me backstage. I was told to "watch for the part when they pull you up on stage" and desperately hoped I would be pulled up on stage. Dressed in appropriate spandex, I arrived to get into the pit at House of Blues in Houston just a few minutes before they came out.
Click for more and DON'T MISS THE PHOTOS!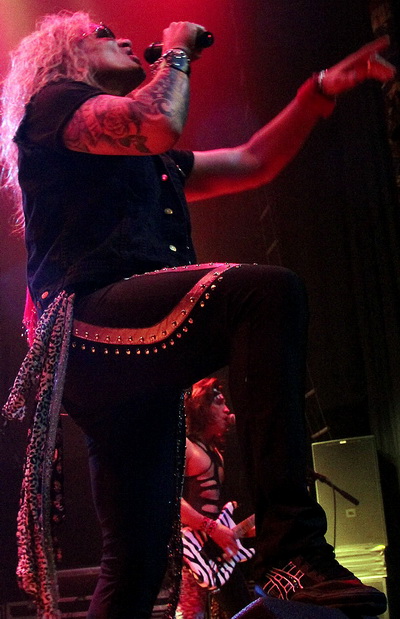 This  hard rock/glam Hollywood, CA band consists of the glorious Michael Starr, lead vocals, acoustic guitars; the shredding Satchel, rhythm, lead and acoustic guitars, backing vocals; sexy Lexxi Foxx on bass and backing vocals;  and the drum-tapping lady- tapper Stix Zadinia on drums, percussion and backing vocals.
In an evening of pure factual phantasy and fact, the whole audience is swept back into the glorious, hedenous, glam glut of the 80s, complete with crotch hugging, simulated sex, thrusts, greasy groins, innuendos and eyeballing. There was a plethora of vying photographers and press, but the band play to all, which is much appreciated by one of the smaller cameras in the house.
These guys are hilarious. They are fun. It is impossible not to smile and have a good time.  If the song titles tells you anything about what to expect, the set list included stuff from their 2009 Feel the Steel Album and the new, much-acclaimed Balls Out, their third studio album released in October 2011 on Universal Republic Records. It included: Supersonic Sex Machine, Tomorrow Night, Fat Girl (Thar She Blows), Asian Hooker, Just Like Tiger Woods, Gold Digging Whore,Guitar Solo, It Won't Suck Itself, Party All Day (Fuck All Night),Community Property, Eyes of a Panther, Girl From Oklahoma, Turn Out the Lights, 17 Girls In a Row, Death to All But Metal.
This is a true story: during the last set, after the girls had swarmed the stage in a good times, sleaze and show fest, (pictures suppressed), Michael pointed his finger at me and mouthed "YOU…BACKSTAGE"…so of course I hustled my way through with help from my VIP angels. It was great to hear about their trip to the UK before Christmas when they opened for Def Leppard and Mötley Crüe in an impressive tour that culminated in the Wembley Arena, and yes, they love Britain and touring there so British fans go see them! Out of their costumes these guys are super cute, nearly got on that bus!
Now click here to check out exclusive photos by Carox of Steel Panther from House of Blues Houston!
This entry was posted by
wakitu
and is filed under
BFMN Exclusive
,
Review
,
Featured Artist
,
Carox
. Tags:
balls out
,
carox
,
feel the steel
,
house of blues
,
lexxi foxx
,
michael starr
,
satchel
,
steel panther
,
stix zadinia
No feedback yet
translate