05/25/10 15:52, by
wakitu
, Categories:
Music News
,
Bands
,
Featured Artist
, Tags:
eric singer
,
gene simmons
,
guitar center
,
kiss
,
paul stanley
,
tommy thayer
,
wounded warriors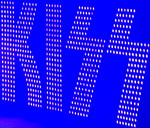 You read our story about their fantastic concert at Wembley Arena, and saw the exclusive photos by our Moonshayde. Throughout their 37-year career, KISS has sold 80 million albums, played in front of millions of people and become an integral part of American culture. Well now, KISS is bringing the big show to North America!
KISS will host a live internet chat on their Facebook page on June 1 to give fans an opportunity to speak directly with the band about the tour.
Called "The Hottest Show On Earth" tour and with most dates presented by Live Nation, it all begins at Wyoming's Cheyenne Frontier Days July 23, followed by the North Dakota State Fair July 24.
Click to read about other tour dates and the competition to be their opening band!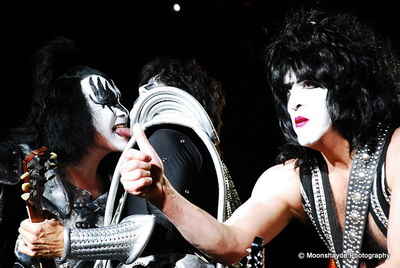 You never know just what to expect from a KISS concert, but you can always assume it will be spectactular! Singer/guitarist Paul Stanley warned there would be enough fireworks "to bring down low-flying aircraft," a possible concern at several of the tour's open-sky venues. He is also quoted as saying, "The bands that have to worry about the recession are the ones who don't give their money's worth to the audience. If you come to see us, your money will blind you and deafen you and pummel you." The dynamic show powers through two hours or so, and the set list will likely be the same great line-up they're currently serving up in Europe.
Fans will also be giving back just by attending a KISS concert this summer. The members of KISS will donate a dollar from every ticket sold to the Wounded Warriors Project, a charity that benefits the United States Armed Forces.
An on-sale date has not been announced, but tickets for select markets go on sale beginning June 4 at LiveNation.com. Citi cardmembers can access presale tickets beginning Wednesday, June 2, at 10 a.m. through Citi's Private Pass Program.
Saying, "Someone gave us a chance, we're giving you a chance," instead of selecting an established band as support, KISS has teamed up with Guitar Center to discover a talented, unsigned act. The Guitar Center On-Stage competition will allow unsigned rock bands to compete for a chance to open for KISS at each of 22 tour stops; 22 cities, 22 unsigned bands. The winning band will also receive a $10,000 Guitar Center shopping spree. Unsigned bands can begin registering June 1. Click here for details.
KISS Tour Dates and Locations at publication:
7/23 — Cheyenne, WY;  Cheyenne Frontier Days
7/24 — Minot, ND;  North Dakota State Fair
7/29 — Pittsburgh, PA;  First Niagara Pavilion
7/30 — Cincinnati, OH;  Riverbend Music Center
7/31 — Hershey, PA;  Hershey Park Stadium
8/06 — Philadelphia, PA;  Susquehanna Bank Center
8/07 — Mansfield, MA;  Comcast Center
8/09 — Indianapolis, IN;  Indiana State Fairgrounds
8/13 — Buffalo, NY;  Darien Lake Performing Arts Center
8/14 — Wantagh, NY;  Nikon at Jones Beach Theater
8/15 — Scranton, PA;  Toyota Pavilion
8/19 — Uncasville, CT;  Mohegan Arena
8/20 — Holmdel, NJ;  PNC Bank Arts Center
8/21 — Washington DC;  Jiffy Lube Live
8/27 — Virginia Beach, VA;  Virginia Beach Amphitheater
8/28 — Charlotte, NC;  Verizon Wireless Amphitheatre
8/29 — Raleigh, NC;  Time Warner Cable Music Pavilion at Walnut Creek
9/02 — Milwaukee, WI;  Marcus Amphitheatre
9/03 — Chicago, IL;  First Midwest Bank Amphitheatre
9/04 — St. Paul, MN;  Minnesota State Fair
9/10 — Toronto, ON;  Molson Canadian Amphitheatre
9/11 — Detroit, MI;  DTE Energy Music Theatre
9/12 — Cleveland, OH;  Blossom Music Center
9/17 — Houston, TX;  Cynthia Woods Mitchell Pavilion
9/18 — Dallas, TX;  Pizza Hut Park
9/19 — San Antonio, TX;  AT&T Center
9/22 — Sandy, UT;  Rio Tinto Stadium
9/24 — Phoenix, AZ;  Cricket Wireless Pavilion
This entry was posted by
wakitu
and is filed under
Music News
,
Bands
,
Featured Artist
. Tags:
eric singer
,
gene simmons
,
guitar center
,
kiss
,
paul stanley
,
tommy thayer
,
wounded warriors
2 comments
User ratings
5 star:

(1)
4 star:

(0)
3 star:

(0)
2 star:

(1)
1 star:

(0)
2 ratings
Average user rating:
***%-
(3.5)
This is a fantastic blog you have here. I visit here every week. I have already subscribed to your rss feed to help me stay update with your publication. Are you on twitter so that I can follow you?
08/20/10 @ 03:21
translate