09/24/13 08:32, by
wakitu
, Categories:
BFMN Exclusive
,
Take It From Me
, Tags:
allman brothers band
,
berry oakley
,
doug cashman
,
lapple
,
nitty gritty dirt band
,
otis redding
,
tom dowd
,
warehouse
,
whisky a go-go
Take It from Me
by Edward Lapple
It was time. I could feel the clicks of the clock more than hear them and that confounded page – well, actually the flat screen – remained nearly blank. I had typed three consonants and a vowel, but that does not a BareFoot MusicNews submission make. It will be morning soon and these electrons must flow to my editor. He deserves them and in a reasonably timely manner. But where is my inspiration for this week's column? I could lash you with setting levels to within a db of your life or cajole you in to firm cooperation with your fellow band mates, but I am feeling benevolent. You've worked hard and we all need some fun. So it's time for a field trip.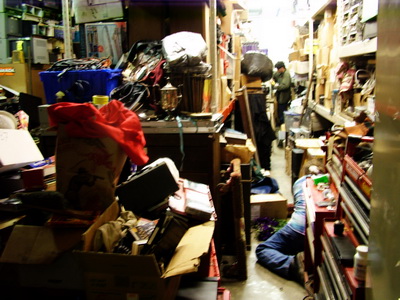 Where is our favorite location for a field trip? Yes, you guessed it; it's back out into the spooky warehouse. It's so very practical; fuel expenses are nil, the chance of encountering a gendarme are slight and I can grab a munchy as we wheel and make the turn at the Frigidaire. You had better wear your boots, though, because this might just get a little deep.
I had a new girl Wednesday (they never last until Friday) trashing my office. Well, she called it cleaning my desk. She also told me that the best radio station was a local one playing that "Jack-FM" format. That's the radio programming concept that totally ignores the listener and sounds like a version of Media Player on steroids. It is stuffed full of random pop offerings and a liberal dose of segues that sound like a train wreck, kind of a "Wooden Ships" into "Hell Bound Train" sort of thing. I'd quickly assembled a thought-provoking, eclectic playlist and convinced her that it was my favorite local FM station that we were now hearing.
Click through for adventure in spooky warehouse!
Perhaps I had hit the speakers just a little too hard with the mix and that explains why I did not hear the box tumbling down at me as I slapped the fridge door closed. It was a solid hit to the hand holding the cottage cheese and cherry preserves mix and it went down in a blur. The box followed its path and the sealing tape popped loose as it came to rest at my feet. The label read "2008 memorabilia," but sometimes labels lie.
I started leafing through the contents and, after a sheet of "Deep Space 9" stationery and a paper airplane made by my son with "Oh dad, I love my dad" scribbled, as only a five-year-old could, along the fuselage, I encountered a brass Men's Room sign and a plastic one-quart freezer bag which contained, oddly enough, a small brown grocery store bag. Flash back 35 years and I was almost positive that we had found our point of focus for this overdue article. Then I heard "Whipping Post" come to bat in my playlist and I was assured that I had the right item.

This brown paper bag had belonged to an old friend of mine by the name of Doug Cashman. Doug and I had played in bands together decades ago and had gone on to experience a lot of the music world of the seventies together.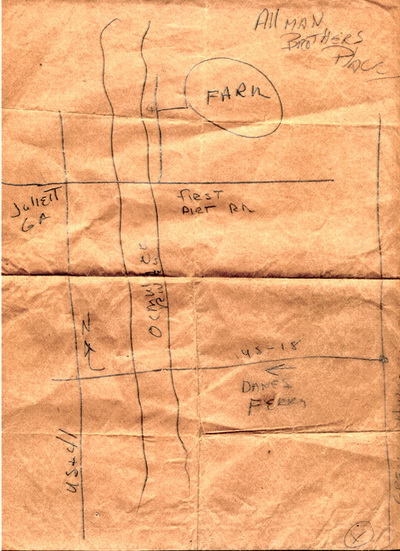 This 1970 brown paper bag had a simple set of intersecting lines drawn in pencil on it; they were
neatly labeled and were, in fact, a map to the Allman Brothers Farm, in Macon, Georgia.
The air is thin in Taos, New Mexico. The town sits at 6,970 feet above mean sea level. This area holds an almost mythical place in the history of the south west. Mountain men and bandits occupied its streets. Kit Carson lived close by and the Sangre de Cristo Mountains soar over two miles into the atmosphere. Dennis Hopper lived and was buried there. Taos is where, my friend, Doug Cashman now makes his home. Doug had grown up in Chicago.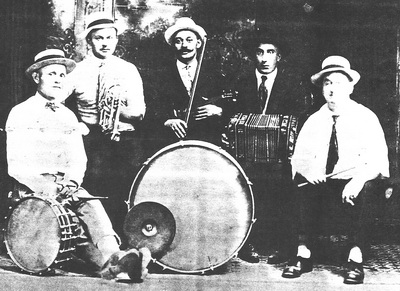 At the start of the twentieth century, his grandfather had been an instrument salesman with the company that eventually became Kay Guitars. He sold and played his way through the steel and coal towns from the east to the Midwest.
Doug's Grandfather, seated next to the snare on left
Doug Cashman, below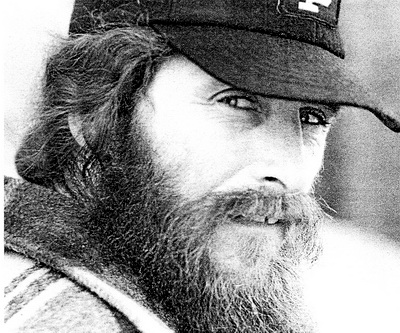 Doug taught himself to play the drums when he was twenty-one and in the Navy. In 1962 Doug had gone to the "Black Hawk Club" on Hyde Street in San Francisco and there he had seen the "Ahmad Jamal Trio," with Vernall Fournier drumming. He was impressed and brought some of the band's records back onto the ship and he wore out the grooves studying and learning.
Back home from the sea in 1963, Doug was learning to play the drums and going to garage and woods parties around Chicago Heights. At one of these gatherings he saw a band called the "Vibratones" which featured a hot young guitar player named Berry Oakley.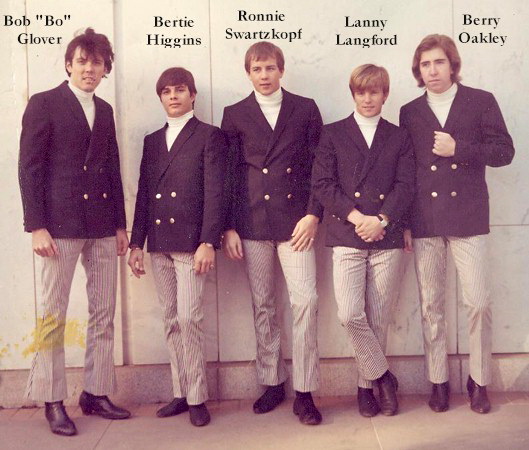 Berry was just a kid, still attending Rich East High School at the time, but he quit, both the band and school, and went on the road when he was offered the bassist's spot in Tommy Roe's back-up band, the Roemans.
Eventually Berry wound up in Jacksonville, Florida where he played in a group called "The Second Coming," which had a guitarist by the name of Dickey Betts.  Meanwhile, two brothers from the south were on the other side of the continent and they were not having a good time.
Duane and Gregg were living in a house in La La Land with the "Nitty Gritty Dirt Band." They called their band "Hour Glass" and their label, Liberty Records, had them dressed in psychedelic outfits playing covers of pop songs. When they were playing live "Hour Glass" was pretty good. Steve Stills and Neil Young wrote the liner notes on one of their albums. But the albums, well, they were just plain embarrassing because Liberty dictated what they would play and how. Duane was just disgusted and he headed back to Florida. Greg was forced to stay in LA because he owed the label one more album.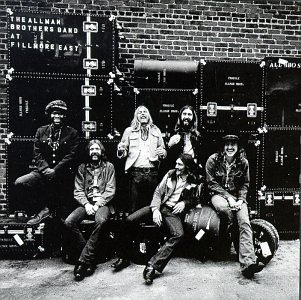 In November of 1968 Duane had been doing session work and was living in Berry Oakley's house. Naturally he was jamming with "Second Coming." A gent named Phil Walden, who had been Otis Redding's manager put together his own record label, called "Capricorn," and he knew that he wanted Duane to be on it. Duane called brother Gregg and said, "Get back out here," and the Allman Brothers Band was born.
I know this is a lot of history, but stick with me. If there is a quiz, it will be open book and graded on the curve. Back in Chicago Doug Cashman had joined two of Berry's old bandmates and there he honed his chops. Then, in 1971, he moved to Southern California to go to school. He lived in a side-of-the-freeway town called Walnut and that's when I met him and was fortunate enough to play in a couple of bands with him. Doug was developing a reputation as a musician's musician. He wrote really interesting tunes that were never the same old 1-4-5. Doug transferred his schooling to San Francisco State and he moved to the Great Highway. There he decided to finance the production of his own album. In 1975 he was working as a street artist and selling some crafts to get cash and he ran into a hot guitarist he'd known back east named Jim Vincent. Jim later replaced Robben Ford in Tom Scott's "LA Express." Jim wanted to play on Doug's record and I was asked to be the recording engineer and mixer for most of the sessions.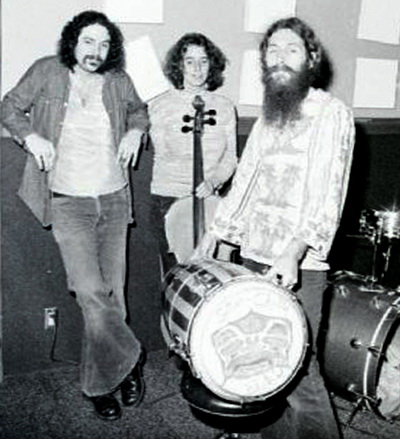 Doug spared no expense and he took us into some of the finest and most fabled recording studios on the west coast. We recorded at "Wally Heiders" in both Hollywood and San Francisco and at the "Church" in San Anselmo, as well as my own "Far Out Recording" in the heart of the redwoods.
From left: the Author, Edward Lapple, Gael the Cellist, and Doug Cashman at Wally Heiders in San Francisco
In 1971, the "Allman Brothers" were playing at the "Whisky a Go-Go" for the first time since they had failed there as "Hour Glass." The first ABB album had just made the Billboard charts and Doug had gone to see them. He and Berry started reminiscing about playing music in Chicago and Berry invited him down to the brothers' farm, in Macon, to jam and party and pick some shrooms. One of the bands' roadies carefully drew a map on a paper bag and (you knew this was coming, didn't you?) that's the paper bag I found in my warehouse. No GPS on an iPhone or Map Quest back then.
Tony Humphreys and Tom Dowd At Capricorn Studios In Macon
 Doug had some plans for going to the farm and, while there, getting the Brothers producer and industry legend, Tom Dowd, to listen to his tapes. You have no idea how excited that made me. Tom Dowd championed multi-tracking and invented the modern mixing console. He recorded R&B & Jazz greats Ray Charles, Aretha Franklin, Herbie Mann, Charles Mingus, Otis Redding, Bobbie Darrin, John Coltrane, Charlie Parker, Thelonious Monk and many others. In the rock world he had done Eric Clapton, Lynyrd Skynyrd, Rod Stewart, Chicago, Cream, The J. Geils Band, Meat Loaf, Willie Nelson, The James Gang and, of course the Allman Brothers. This is the guy that brought Duane Allman into play with Eric Clapton on "Layla," and he was going to hear a mix that I'd done. Wow, I couldn't believe it! (Note: If you want to know the definitive story of Tom Dowd, check out "Hittin the Note," publisher Bill Ector's interview with him.)
Well it took Doug almost four years to get down there. He didn't have a label footing his expenses, he did everything out of his back pocket with what he could save from his GI Bill and selling crafts. During that time both Duane Allman and bassist Berry Oakley had died in motorcycle accidents. When Doug finally got there the farm was deserted, he wound up staying with Tony Humphreys, in Macon. Tony was a mixer for the "Marshall Tucker Band" and was working with Dowd at Capricorn Studios on the "Win, Lose or Draw" album. He took Doug's tapes, which I had engineered, into the studio and Dowd's comment was, "Keep doing what you're doing." Five words that vindicated all of the effort that we had put into the production of these tunes.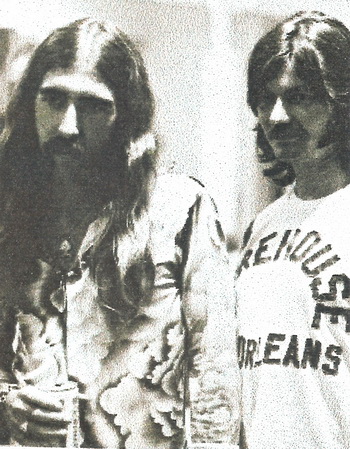 Doug made the most of his time down south; he was the quintessential couch surfer, spending a week at Tony Humphreys and then staying with Michael Callahan who introduced him to a lot of people.
Michael had been the roadie who mixed the Allman's live sound and he went all the way back to when Berry had been in the Roemans. Doug also spent some time at Cotton Studios with George Conger, Barry Branhorst and Michael Pierce.


Berry Oakley and Michael Callahan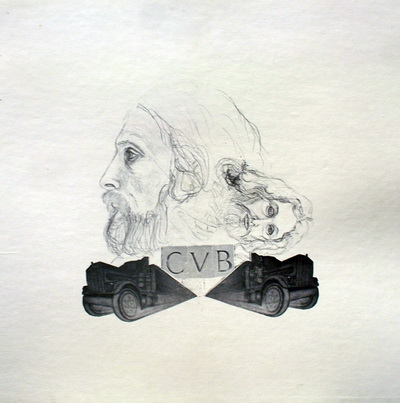 The Cashman Vaquero Band
Front Cover
Now Doug is nothing if not innovative. Cotton had some art work that had been turned down by the Capricorn band, "Cowboy" and Doug talked them into letting him use it for the cover of his album and he convinced Jamie Chase to do the rear cover.
Doug returned to California and we had the album mastered and 500 copies pressed. By now Jim Vincent had been signed to Caribou Records and so Doug changed the band's name from the "Cashman Vincent Band" to the "Cashman Vaquero Band" or CVB, as we called it. Vaquero means cowboy and Doug had worked on a ranch and done some bareback bronc riding. He had also named the record, "In Memory of Berry Oakley." Ron Sadus, who had played with Berry in the "Vibratones," had written a tune by that name, and Doug added the lyrics and it became the album's title cut. Sadly, Ron died before the album's release. When the pressing arrived, I took 50 of the albums and Doug sent 50 to his mom.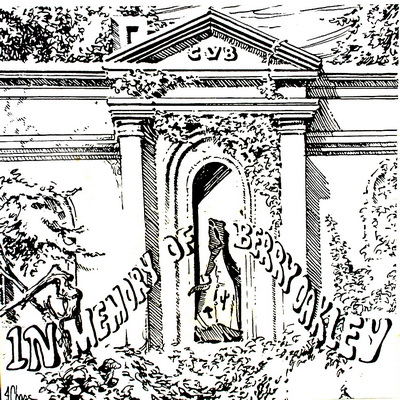 Doug went to Hawaii for a while and sublet his Tower hotel room in San Francisco to a friend. This friend didn't pay the rent and the landlord hired two thugs on parole to get him out. It was a street version of "Tenant's Rights." They rushed in and started throwing all of the contents of the apartment into a dumpster. Out went Doug's master tapes, his historical photographs and 250 copies of the album. They were gone. Oddly enough and perhaps proving that karma does exist, the thugs started dealing drugs from the place and, on December 8th, 1980, the day John Lennon was shot, the thugs got into a gun battle with the SFPD. One was killed and the other shot five times and sentenced to life in San Quentin. Don't mess with music.
The album never went anywhere and then I heard that Doug had died. Eighteen years later I was contacted by some music collectors in Sweden. They had tracked me down from the album's credits and they wanted to know if I had any copies of the record because it was a classic example of San Francisco rock music from that period. I sold them four copies for $50 each and then about three years later, a very alive Doug Cashman contacted me. After the shock had worn off, we caught up and I found out that the album lists for 150 to 250 Euros in the record catalog. One has sold on Ebay for $500.

Doug never made the big time in the music industry, but that record of his sure has legs. Yesterday I checked Yahoo Auctions in Japan, because I heard that there was a copy for sale. I saw a Janis album for 300 yen and one by the Allman Brothers for 500 yen. The "CVB" album had a bid of 17,500 yen and it still had six hours to go. I thought that I could hear Doug chuckling all the way from Taos.
This entry was posted by
wakitu
and is filed under
BFMN Exclusive
,
Take It From Me
. Tags:
allman brothers band
,
berry oakley
,
doug cashman
,
lapple
,
nitty gritty dirt band
,
otis redding
,
tom dowd
,
warehouse
,
whisky a go-go
No feedback yet
translate