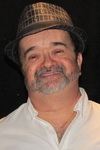 Story by Jules E. Beuck
Photos by Jules E. Beuck

For most of the year Disneyland Resort is known as the "Happiest place on Earth." But from November 13th through January 6th it becomes the "Merriest place on Earth." Holiday ornaments are hung over both parks and changes are made on some rides to celebrate the season.
For example, for the Haunted Mansion Holiday a madcap celebration is taking place as the traditions of Halloween and Christmas collide. The ghoulish but well-meaning Jack Skellington from the film "Tim Burton's The Nightmare Before Christmas" has again come to Haunted Mansion and transformed it with his skewed vision of the holidays. As in years past a gingerbread house has been built in the party room. This year gingerbread zombies build a teetering gingerbread house of cards. There are also the usual additions including man-eating plants and other ghoulish delights.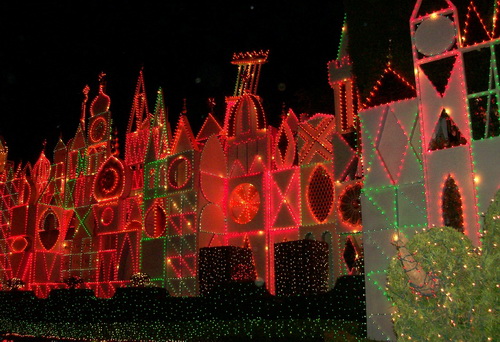 "It's A Small World" Holiday transforms "It's A Small world" into a worldwide celebration of the season, boasting more than three hundred thousand glittering lights on its facade. The usual theme song for the ride is interspersed with Jingle Bells. There is a silhouette of Santa going over his naughty and nice list and a new year's fireworks presentation in the Asia area.
Jungle Cruise (renamed Jingle Cruise) has a whole new set of holiday puns. For example when approaching the area with piranhas the boat captain says they have their own holiday called "Piranhaca, the festival of the bites" (a take off of Hanukkah, the festival of the lights).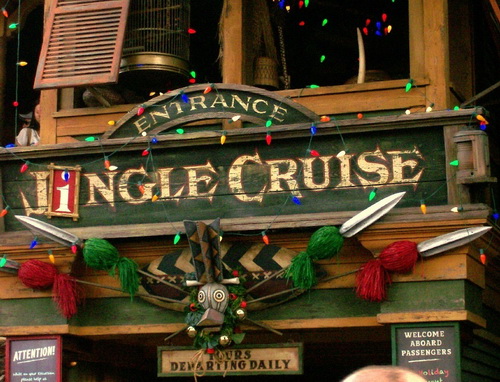 Speaking of the Jolly Old Elf, Santa Claus has returned to greet Disneyland guests. This year he is parked right in front of the Winnie The Pooh ride and shop in Critter Country.
At Disney's California Adventure the World of Color "Winter Dreams" where Olaf the snowman from "Frozen' hosts a program that has scenes from classic Disney movies interspersed with animation created for the show displayed on shooting waters is alternated with the Neil Patrick Harris hosted "Celebrate" which tells the story of Disneyland's beginnings.
If you have not heard, Stars Wars has made its presence felt in Tomorrowland. There are areas where you can explore the environment of the upcoming movie, you can interact with Star Wars characters and Space Mountain has been reimagined as Hyperspace Mountain simulating an X-wing Starfighter battle.
This will all be happening in tandem with all the 60th year celebration activities.
As we said this will be going on until early January. For information on new attractions at Disneyland Resort and other information visit www.disneyland.disney.go.com.
This entry was posted by
wakitu
and is filed under
Music News
,
BFMN Exclusive
,
Jules E. Beuck
. Tags:
Haunted Mansion
,
Stars Wars
,
Tim Burton
,
disneyland
No feedback yet
translate