06/10/14 12:45, by
wakitu
, Categories:
Music News
,
BFMN Exclusive
,
Bands
,
Review
,
Steven Rask
, Tags:
american sound studios
,
cd release
,
dark globe
,
long sleep
,
pink floyd
,
rock band
,
san diego
,
steven rask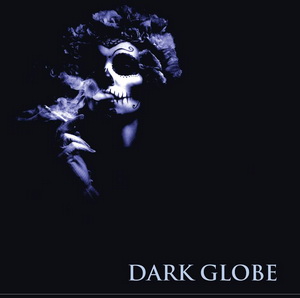 A review by Steven Rask
The turn of the century has seen a resurgence of comebacks from bands that were once on top of their game. However, when a band decides to make a "comeback album," most attempts fail. Most times, critics ask,  "Why the hell would we need another album by THESE guys?"  Rocky Erickson, Mission of Burma, Portishead, and Wire are among very few bands whose recent "comeback" attempts have met relative success. Conversely, if you've heard the latest by Guns and Roses (2008), The Stooges (2007), Devo (2010), or even The Who (2006), you might agree with the  "Why the hell…?" consensus. Although one might consider it a "return" rather than a "comeback," The Long Sleep by San Diego rock band Dark Globe has many of the traits that put it into the first category, and make it a successful follow-up to an album that was released over two decades ago.
Click through for more about The Long Sleep
Dark Globe met with relative success in the San Diego music scene. In the late 80s and early 90s they released several recordings on the Scheming Intelligentsia label, and stayed quite popular within the San Diego circuit for many years. After some personnel changes, and quite a few years of hiatus, they began playing out more frequently. They recently played a sold-out show at the Shakedown Bar in San Diego. The band went into the studio in March to record some new tunes, plus a few older ones that deserved an aural chronicling.
The Long Sleep is a driving, gutsy, straight-forward, 15-song rock album that is sonically refreshing among the recent overproduced, overplayed and often unnecessary releases heard on the radio and other media today. The band's influences are undeniable throughout the album. Hints of Metallica, New York Dolls and Kiss are evident in the guitar tones and riffs, and tributes to David Bowie and Pink Floyd appear on the record as well.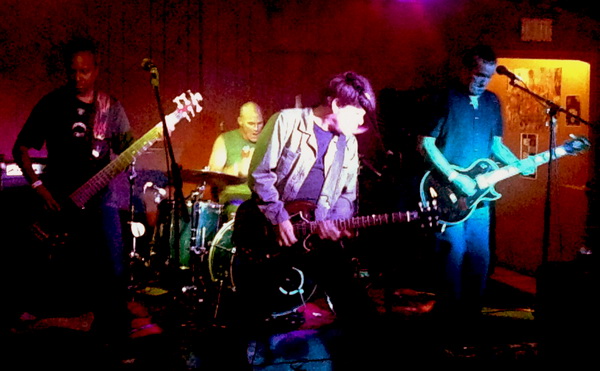 The album begins with ''Twist,'' a methodical headbanger with the signature Globe sound. Jon Gire (pronounced "Geary") with his throaty growl and grungy guitar tone; Conway Bowman's thundering snare cracks; Mike "Sandalwood" Jones' driving bass; and lead guitarist (former Globe bassist) Scott Evans' cutting solos create a sonically pleasing 7-minute opener. "Los Angeles" is a quick-tempo, Ramones-style ditty that drives on through to the last punch. "Devil at the Backdoor" and "Rats" have that familiar "Globeness" featuring a mid-tempo chug with their signature bass/drum/vocal breakdown sections that every Globe fan loves to hear.  
The boys revisit the days of yore, with a quicker rendition of "The Fishcold Light of Day." Previously released on Exploding in the Sun (1987 Scheming Intelligentsia), the very catchy tune was once a staple in their set.  The added guitar solo and breakdown section is a fantastic addition to the tune. The surprise cut on the album is "Scarecrow," a fine take on the blues. (WHAT??? Dark Globe doing Blues???) Sandalwood's' "carry the bottom" bass line drives this foot-stomper, while Evans' gutsy solo is one that even Jimmy Page would be proud of. The two cover songs on the album — Pink Floyd's "Pigs - 3 Different Ones" and Bowie's "Cracked Actor" — are tastefully reproduced, and beg to be sung along to.
The remaining "bonus" tracks: "Caribuman," "Grudge," another Floyd tune in "Astronomy Domine," "Three Sheets to the Wind" and "Karmann Ghia Coffin" are taken from previously unreleased recordings at Blitz Studios (1992) and feature "Mocha" Joe Camacho (currently with the San Diego band, El Monte Slim) on guitar.
Superbly produced and engineered by Brandon Jensen at Point Loma's American Sound Studios, The Long Sleep is a great addition to every Dark Globe fan's collection, and even first time Globe listeners would appreciate the stark, unapologetic and raw sound of this band.  
The Long Sleep is available for download on bandcamp.com along with their other releases. Downloads are currently free, but donations are accepted and encouraged. Dark Globe is planning a CD release party in the coming months, and this writer will be one of the first there. Dark Globe always delivers a great live show.  Details are available on Dark Globe's Facebook page.
If comebacks are indeed coming back, then this band has come back in a brave way, sticking close to their roots, and bringing forth a record that is worthy of multiple listens. On the other hand, the term "comeback" infers that they once went away. Dark Globe was never really gone. They just had a long sleep.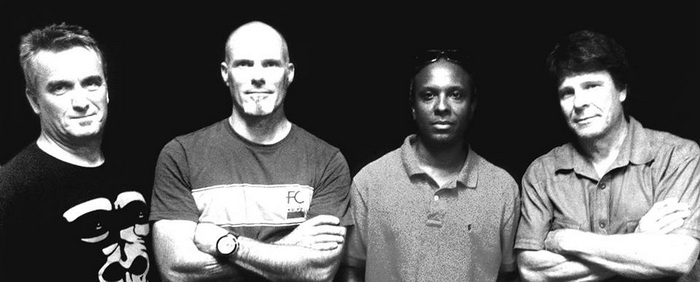 This entry was posted by
wakitu
and is filed under
Music News
,
BFMN Exclusive
,
Bands
,
Review
,
Steven Rask
. Tags:
american sound studios
,
cd release
,
dark globe
,
long sleep
,
pink floyd
,
rock band
,
san diego
,
steven rask
No feedback yet
translate