This is a very special look back, in words and photos, of Fairport's Cropredy Convention 2011, featuring the photography of Ben Smith. Special Guest Reviewer Phil Widdows is the presenter/producer of FolkCast, the UK's top independent folk music podcast, and the official podcast of Fairport's Cropredy Convention.
Review By Phil Widdows
Photos by Ben Smith Photography
England in the summertime is the land of a thousand music festivals. Every genre and style is catered for and events range from tiny gatherings in pub beer gardens played by hobby soloists and garage bands, right up to the massive corporate cattle markets with international superstars at every turn.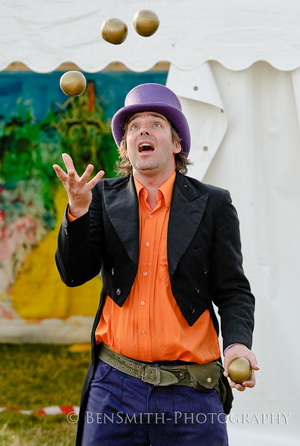 And then there's Cropredy. Or "Fairport's Cropredy Convention" to use its newly-acquired formal title, brought in to add just a touch of branding to a largely non-commercial event that, over three decades, has gently evolved from a garden fete in the heart of a chocolate-box-pretty village into a three-day mix of rock, blues, pop and folk with one constant and unique characteristic: it is organised by, and headlined by, a band. That band is Fairport Convention.
It was pure chance that in the mid-1970s the village of Cropredy in Oxfordshire, which is complete with medieval church and English Civil War battle field and lies about 80 miles north west of London, was home to two members of Fairport Convention, the band that had united centuries-old traditional folk song with electric instruments to create British folk-rock. But by the mid-1970s the band was in trouble.
The "classic" line-up which had included singer-songwriter Sandy Denny and genius guitarist Richard Thompson had fragmented and the Fairport project had stuttered to a halt, a victim of record company neglect, changing musical fashions and an almost heroic lack of focus from the remaining band members.
But then something remarkable happened. What had started as a private fundraising event in Cropredy – the home of bass player Dave Pegg and fiddler Dave Swarbrick – slowly developed and grew into an annual festival and the perfect excuse for former Fairporters and their fans to get together for "a weekend in the country".
Even when the band officially broke up in 1979, the Cropredy reunion, as it was then known, kept the extended family together. When, in 1985, the time were ripe to start the band again all the pieces came together neatly, with original member Simon Nicol at the helm as lead singer and guitarist.
Since then the once volatile and ever-changing band has settled down to become established as a British musical institution which in 2012 celebrates the 45th anniversary of its original foundation. And the Cropredy Festival has become an institution too, gently and organically growing over the decades into the perfect weekend bash, attracting music fans of all generations and presenting bands big and small, old and new … but always with Fairport Convention at its heart, their three-hour set rounding off what is now a three-day festival with a crowd of up to 20,000 people.
And in all the 35 years that the Convention has come to Cropredy, few years have bettered the combination of an eclectic and electric musical line-up, a chilled out atmosphere and the brilliant weather of 2011.

Stay Tuned for Part Two!
In the next installment, Phil Widdows looks at the performances from Thursday, August 11, 2011 as Fairport Convention started the Festival, playing in their "acoustic" line-up early on the afternoon, till UB40 played into the darkness ... all accompanied by the photography of Ben Smith.
Fairport's Cropredy Convention comes round again from August 9th to 11th 2012, at Cropredy, Oxfordshire, England. It promises to be even more special, as Fairport celebrates its 45th anniversary and many of the surviving band members will be reunited on stage once more. Other artists on the bill include Squeeze, Joan Armatrading, The Saw Doctors, Bellowhead and Big Country, but for many in the crowd at this one-of-a-kind festival it doesn't really matter who is playing. If it's the second weekend in August, there's only one place they want to be. Why not join them this year?
This entry was posted by
wakitu
and is filed under
Festivals and Events
,
BFMN Exclusive
,
Ben Smith
. Tags:
ben smith photography
,
cropredy convention
,
fairport convention
,
folkcast
,
phil widdows
No feedback yet
translate