05/10/10 17:14, by
wakitu
, Categories:
Welcome
,
BareFoot Fotogs
,
Dimples
, Tags:
digital effects
,
dimples
,
grigor
,
nikon
,
no edit photo
,
seattle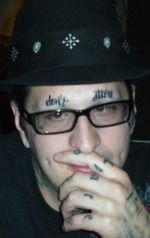 Josh "Dimples" Grigor – otherwise known as Dan's youngest son – owns and is the principle photographer for No Edit Photo in Seattle, WA.
With a photo style he describes as "helping you see the music," he paints with light and shadow onto the shot. The apparent effects you see are what was shot. There is no edit. Get it? No Edit Photo. The only digital function performed on any of his photos is to rotate and occasionally crop.
Josh shoots with all Nikon equipment and, with fast flashes and slow shutters, helps you see the movement of the artist. Capturing movement and the energy of a live show is his specialty.
"I've had a camera in my hands since I realized I had thumbs," he says, and I can attest to that. We have some amazing family photos. Dimples has captured moments of Slipknot, Lamb of God, Heartless Bastards, Gwar and many others.
He has all-pro skills and attitude to match his gear; with his extensive stage manager/roady experience, he flits about the stage as if he's invisible even when using flashes and remotes. His unique combination of experience in photo, stage, sound, light and shadow creates a photo set that flows with the music and lets you see the whole show. Rather than seeing musicians holding instruments with their eyes pinched closed, you feel the energy of the moment in the song.
For his first piece, Dimples brings us Bad Neighbor at the Central. Click and enjoy the action in the BareFoot FotoBlog! Read a little about the band, the show and find links there to learn more about Bad Neighbor.
This entry was posted by
wakitu
and is filed under
Welcome
,
BareFoot Fotogs
,
Dimples
. Tags:
digital effects
,
dimples
,
grigor
,
nikon
,
no edit photo
,
seattle
No feedback yet
translate