05/31/10 05:24, by
paul.bourgeois
, Categories:
BFMN Exclusive
,
Monday Morning Musical Musings
,
Paul Bourgeois
, Tags:
1948
,
a song is born
,
benny goodman
,
danny kaye
,
howard hawks
,
jazz
,
louis armstrong

If you haven't guessed it yet I am a movie freak, and I love movies about music.  I want to share a movie with you.  Wouldn't it be really cool if you could see Danny Kaye, Virginia Mayo, Buck and Bubbles (Ford Washington and John Sublett), Tommy Dorsey, Benny Goodman, Louis Armstrong, Lionel Hampton, Benny Carter, Charlie Barnet, Mel Powell, Harry Babasin, Louis Bellson, Al Hendrickson, The Golden Gate Quartet, Russo and the Samba Kings, and The Page Cavanaugh Trio all jamming together in one room and then defeating a group of gangsters with the power of music alone? Well, Howard Hawks can do anything.
When I was a little kid I watched the old movies on Saturday afternoon, Laurel and Hardy, Abbot and Costello, the Marx Brothers, and Danny Kaye. I had a vague thirty-year-old memory of a music professor giving the history of jazz to some jazz musician and getting it wrong. So I went looking for the movie that I had seen as a little kid. I remember chalk on a blackboard and somebody singing his way through jazz and classical and history. I think I found the wrong movie, but what a lucky mistake. I can search for the correct movie later, a world of mistakes and stumbling over stuff keeping my life interesting.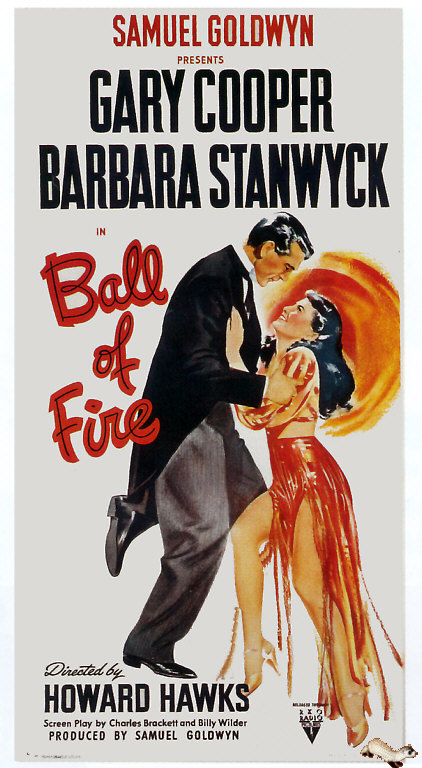 In 1941 Howard Hawks and Billy Wilder wrote and made the movie Ball of Fire, with Gary Cooper and Barbara Stanwyk. Gary Cooper, of course, doesn't sing. But, then again, in 1948 neither did Danny Kaye. He was having some troubles with his wife/musical composer because he had just left her for actress Eve Arden. And, apparently, Hawks didn't like Danny Kaye or the entire movie very much. Perhaps he was just pissed off at Samuel Goldwyn for messing with the movie he and Billy had written in 1941. The things you learn that are just lurking behind an innocent movie. There was a whole war between the first movie and the second movie and the music had changed. In the first movie they are writing an encyclopedia of all human knowledge and Professor Frisbee (Gary Cooper) is an English professor researching; we don't get into the music much. But there is one really nice scene with Barbara Stanwyk and the Gene Krupa Band doing Drum Boogie, and Gene comes down and turns matchsticks into drums.  And, to tell you the truth, music or not, seeing Barbara Stanwyk take off her stockings is worth the price of a ticket.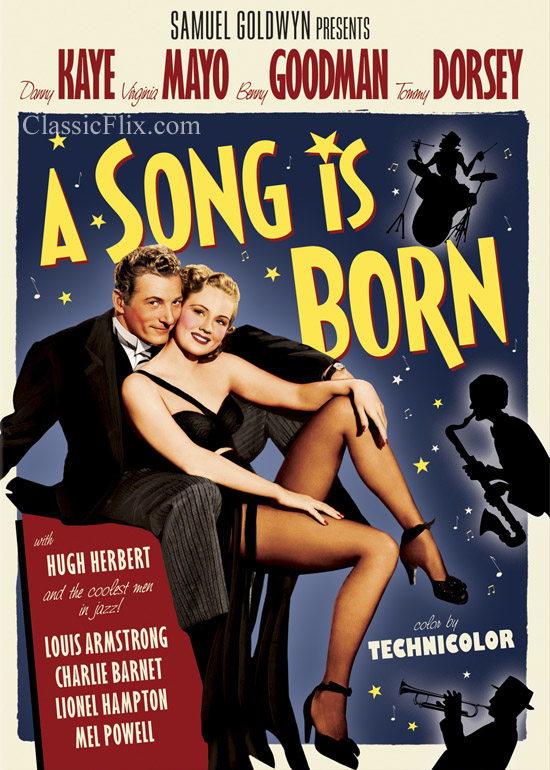 A Song is Born has the same director and sets as 1941, except now it is in technicolor and, in the lead role of Professor Frisbee, Danny Kaye plays an American folk music professor. Buck and Bubbles come into the professor's home and Jazz and classical get to mix it up a little bit. Benny Goodman and Ford "Buck" Washington get to jam together to Grieg's Peer Gynt. Professor Frisbee says "Do you realize that since we've been cooped up here that music has changed, and changed considerably" and he goes out. "Gentlemen, I'm going out. Out into this world. Out of this house. Out to tap the major sources of this music… to the night clubs, the dance halls, yes, even the honytonks… Would you mind leaving the key under the mat. I may not be home until nine this evening… Goodbye". First he finds Mel Powell, who doesn't look old enough to be playing in bars in 1948. I wonder if he was. Later we get the Golden Gate Quartet giving us some wonderful gospel and a precursor to rap. He finds Lionel Hampton and Louis Armstrong playing in a club together. And all this before 9:00. And later he brings them all back to the institute where they can jam together.
I'm sitting here struggling to say something meaningful, and I am at a loss for words. This is jazz music. And if you like jazz then you have to see it… just for all the names in the first paragraph. Enjoy.
This entry was posted by
paul.bourgeois
and is filed under
BFMN Exclusive
,
Monday Morning Musical Musings
,
Paul Bourgeois
. Tags:
1948
,
a song is born
,
benny goodman
,
danny kaye
,
howard hawks
,
jazz
,
louis armstrong
1 comment
User ratings
5 star:

(0)
4 star:

(1)
3 star:

(0)
2 star:

(0)
1 star:

(0)
1 rating
Average user rating:
****-
(4.0)
also a movie lover… gonna watch "A song is Born" again… thanks for the inspiration.
06/06/10 @ 18:32
translate