04/03/12 03:26, by
wakitu
, Categories:
Music News
,
BFMN Exclusive
, Tags:
ace frehley
,
eric singer
,
gene simmons
,
house of blues
,
kiss
,
paul stanley
,
photos
,
review
,
rock and roll over_ carox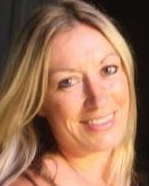 Photos and Review by Carox
Tribute bands in Houston are extremely popular. Sometimes it is a chance for a fan to see and hear music that they might not get to see or hear. The earliest tribute bands were ones fashioned after Elvis or the Beatles, but it's a popular, thriving business in Houston and most bands have their own dedicated fan base.
Click through for more about Ozz and Rock And Roll Over from the House of Blues, Houston
They are mostly underpraised and hardworking bands. I say that because imitation (with some personal flair) is not easy work. Image is all-important and can be sternly judged if it fails, and the music is not so easy to learn. Hours of practice go into a successful tribute band. Tonight's journey takes me to the House of Blues, Houston (yes, again) to watch two of my favorite tribute bands in Houston: Ozz from Houston and Rock And Roll Over from Dallas.
OZZ's current band line-up since mid-2011 is Iggy Reyna on Vocals and the metal madmen Scott "Whiplash" Burmeister (Bass), Jeff Quiggle (Keyboards), Paul Sandifur (Drums), and Mike Luna (Guitar). Guest drummer this night was Jarod Frank (Foo Fakers and That 80z Band).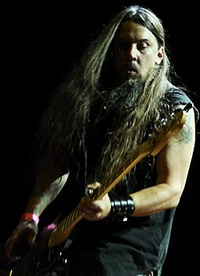 The glorious Friday night Set List to warm the audience: (with respective albums being tribute) was: Diary of a Madman Intro (personalized by the drummer), Over The Mountain (Diary of a Madman, 1981), Miracle Man (No Rest for the Wicked, 1988), Shot in the Dark (The Ultimate Sin, 1986), Mr. Crowley (Blizzard of Oz, 1980), I Don't Know (Blizzard of Oz, 1980), Goodbye to Romance (Blizzard of Oz, 1980), Flying High Again (Diary of a Madman, 1981), No More Tears (No More Tears, 1991), Bark at the Moon (Bark at the Moon, 1983), Crazy Train (Blizzard of Oz, 1980), Paranoid (Paranoid, 1970, Black Sabbath).
It was a wonderful set that earned a great crowd response; for many of them, I'm sure, it's the nearest thing to Ozzy apart from Ozzy in Houston. Iggy is a very confident singer and there is always plenty of interaction. He also knows his fans, which they enjoy, because he includes them in his call outs.
He has been performing his tribute to Ozzy Osbourne for around ten years with different bands and line-ups. He  started singing in a church choir and then garage bands in his teens. Because he was told so often by his friends that he "sounded just like it" when he did a Sabbath or Ozzy tune, it became his art.
Mike and Jeff are the newer members of the band, and Iggy and Scott go back three years.  Of the absent Sandy, Iggy said " Sandy is a very talented drummer and   I have known him a little over a year. He is a very loyal family man and a very good friend." Luckily they had Jarod Frank to sit in, who is  very versatile Houston drummer and gave a seamless performance.
Check out the Photo Album here.

The KISS Tribute, Rock And Roll Over, came next. Band members are: Christopher Paul as Paul Stanley, Mike Campion (also in Gene's Addiction and That 80z Band) as Gene Simmons (Demon), Allen Shelley as Ace Frehley (also with Woundtight), Paul Brown (also with Light the Fire) as Peter Criss/Eric Singer.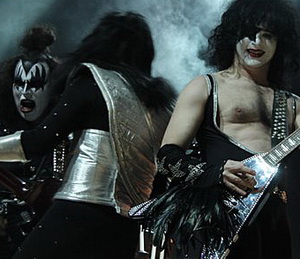 This impressive band placed fourth in the KISSoff in Las Vegas in January 2012. There was a posting on KISSOnline stating that KISS, via Monster Mini Golf, were searching for the "World's Greatest Tribute Band." Around 225 KISS tribute bands entered their videos from around the world. KISS whittled it down to a "top twenty," and Rock and Roll Over were among them.  The voting was then opened up to the public for a 24-48 hour period. Over 35,000 votes were tallied and Rock and Roll Over made the top four. They then went to Las Vegas to perform for KISS member Tommy Thayer  and a panel of judges. Including Rock and Roll Over, there were two bands from the US, one from Australia and one from Hungary. They were beaten by only one other in the world.
I asked Christopher, Why KISS? His response was, "KISS has been my favorite band since I was 7 years old. My relatives thought I was obsessed with KISS as a child and on into my teen years. I like to tell them now that I was really just studying all that time. There are certainly other bands that would be easier to tribute. It seems that you can throw a rock and hit a KISS tribute band these days. I have no animosity toward anyone that wants to do it. It just seems to be a natural for me to play the role that I do in Rock and Roll Over. It doesn't seem like it's an act to me, it really seems to lie within me to do it."
Both Christopher Paul and Mike Campion have met members of KISS in person. Allen Shelley, a lifelong KISS fan works very hard to replicate Ace's solos note for note. Christopher says that Paul Brown is such a great drummer that it's tough for him to stay in the rigidity of playing KISS music, because his drumming and visual ability are "through the roof."
The Set List from this immaculately dressed band was: Detroit Rock City, King of the Nightime, World, Deuce, Strutter, Lick it Up, Shock Me, Shout It Out Loud, Beth, God Of Thunder, I Was Made For Loving You, Do You Love Me, I Love it Loud, Love Gun, Black Diamond, Calling Dr. Love, Rock and Roll All Nite - encore - She.
It was easy to understand why they placed second in that competition. Check out my photo album to see what you missed.
This entry was posted by
wakitu
and is filed under
Music News
,
BFMN Exclusive
. Tags:
ace frehley
,
eric singer
,
gene simmons
,
house of blues
,
kiss
,
paul stanley
,
photos
,
review
,
rock and roll over_ carox
No feedback yet
translate